Danielle Rennard, Culture Editor 
Every Tuesday you can stroll through the Farmer's Market set up in the quad and purchase a variety of different locally-grown foods. At one of the stands you can find a delicious array of maple syrup products ranging from good 'ol maple syrup for your pancakes to scrumptious maple syrup lollipops.  The man in charge of this stand is Larry Roseboom, and he certainly doesn't let his age keep him from doing what he loves: making maple syrup.
Although the process has changed on how to collect the sap and create delectable syrup, Roseboom has evolved with the times and continues to sell it, along with honey. "It's in my blood to be a farmer but I've just decided to do something a little sweeter," he said.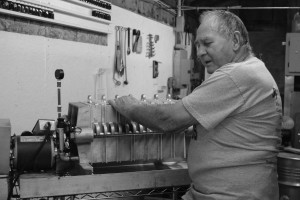 Making maple syrup has been in Roseboom's family for as long as he can remember. His parents and grandparents made syrup as a hobby, but Roseboom took it a step further and turned this sweet craft into a career.
Before retiring, he owned the first farm in Maple Valley established in Otsego County that was passed down through generations of Rosebooms. It was strictly a dairy farm but he made sure to plant sugar and red maple trees. At the time, the procedure to create the syrup involved collecting the sap manually and heating it in a pan with a wood fire. Now the process is much more efficient and less time consuming.
Roseboom has over 2,000 trees with gravity lines connected to them that carry sap down into buckets for collection. Later it's boiled at a temperature of 107 degrees Fahrenheit. After the liquid thins and cools it must be run through a reverse osmosis machine which simply removes excess water from the sap. One of the most vital steps is filtering the remaining sap in order to remove any dirt, sand or other unwanted particles. What's left is delicious syrup, ready to be bottled and enjoyed. In regards to technology, Roseboom said "It has been a blessing with my old age."
Besides the Oneonta Farmer's Market, Roseboom also sells the syrup he makes in Franklin, Delhi and Cooperstown. His buisness partner Richie Terrell, of New Jersey, handles the financial end, while Roseboom is responsible for making the syrup and marketing. Their biggest client is the Otesaga Cooperstown Hotel where they sell barrels of maple syrup.
Along with syrup they also sell maple lollipops, hard candies and honey, which they buy from other people. In addition to the Farmer's Market, Roseboom sells his products at the Westford General Store which has been around since 1854. Many people enjoy his syrup not only because it's delicious, but also because it's completely organic.
Roseboom says that making and selling syrup has become an outlet for him to be with people and even create some long-lasting relationships. He's been selling his products at the Oneonta Farmer's Market every Tuesday and Saturday for the past five years and he describes the atmosphere as being "a whole community of friends." While some retired individuals play bingo or golf, Roseboom says he's living out his life dream making and selling maple syrup. So be sure to stop by the Farmer's Market and check out all the fresh products that you can purchase.