Jean-Paul Scott, Contributing Writer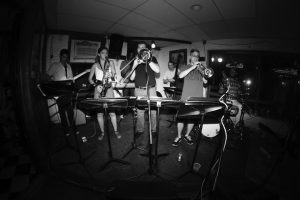 The Music Industry Club did it again. Last Wednesday night in the Hunt Ballroom, MIC put on a fantastic show, starring four talented groups with sounds ranging from indie–folk to punk. These groups hailed from Oneonta to Pennsylvania. Each group brought their own flavor to the stage, which kept the crowd entertained and intrigued.
Local group Grafted, I Am started out the night with a high-energy rock sound and a strong message. Pulling in the crowd with the use of unorthodox instrumentation, such as trash can lids and a banjo to create a mesmerizing loop, they unleashed a tough hard sound with sentimental meaning– a combination not as classic as PB&J, but just as good.
Following them up was indie–folk group Bear Grass, who made the trip down from Troy. Quirky, fun and relaxed, this group lent itself to a softer side. The strong female lead vocals gave this group a Sara Bareilles meets John Denver feel. Soothing melodies and soft harmonies held up to the bands' style, the audience, perhaps feeling in the mood for a calm walk in the woods.
The following group Department, hailing from nearby Syracuse, brought the tempo back up. This group had the punk vibe that contrasted the previous artist very well. Department implemented double vocals, with hard and brash harmonies combined with stellar guitar riffs and sounds, which resonated in the cavernous Hunt Ballroom.
The final group to take the stage was Three Man Cannon, trekking all the way from Pennsylvania; clad in flannel, the band's progressive sound was reminiscent of Nirvana. Fighting through some early technical problems with their guitars, they began to pass around the mic. Each member of the trio had lead vocals on at least one song, and none of them disappointed.
The MIC brought in four bands that could have peaked nearly anyone's interest, and it is only the beginning. On Thursday, September 25 the MIC will be hosting their next show, featuring various prominent Ska artists and Brays' CD release party, so make sure you make your way up to the Hunt Waterfront and enjoy some groovy music.