Tracey Cheek, Staff Writer
Hillside Commons is Oneonta's newest addition to student housing. Though it struck up some controversy with the city and with SUCO, it is up and running and many residents could not be happier with their choice. Some feel like they are living in a hotel, but despite the rumors, there is no pool located at Hillside Commons.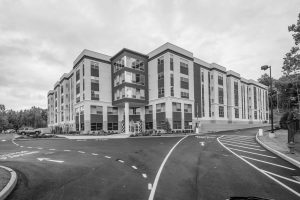 There are many questions that arise when Hillside is brought up in conversation. For starters, Hillside Commons is not affiliated with campus. Although it is located up on Blodgett Drive next to the baseball fields, it is still off-campus housing. For transportation, Hillside Commons and OPT created a new bus route to help residents commute to class and downtown on the weekends. The bus route is a circle from Hillside around campus and back up, so residents don't have to hike up the hill after classes. The hill is a tough walk, so the bus is worth the fifteen-minute wait unless you really want to get a leg workout in.
The cost of Hillside Commons depends on which kind of room you are living in and which floor you are located on. There are one, two and three-bedroom apartments, all with different room layouts. Prices range from $725/month to $950/month. Each apartment comes fully furnished and also includes a washer and dryer, living room and kitchen with everything you need to get cooking. Each resident gets their own bathroom, however, everyone is responsible for keeping their bathrooms clean as well as cooking their own meals. Many residents get commuter meal plans, which cost between $300 and $1,000 each semester, and allow you to eat in any of the dining halls on campus.
Unlike many off-campus houses, the monthly rent includes all utilities and benefits such as vending machines, computers and printers, and game rooms equipped with a pool table, ping pong table and arcade games. Hillside Commons also has a fully equipped gym and yoga room, a movie theater, , multiple study lounges and a courtyard with grills and outdoor furniture. The lease is for 12-months, so residents can stay for the summer and do not have to go home for the breaks throughout the year, whether they stay in Oneonta for work or play.
Residents were unsure of what to expect because when last semester ended, it did not seem like much progress had been made on Hillside Commons. Many residents' expectations were exceeded when they arrived to move in to these brand new apartments. Junior Anthony Nieto was blown away when he arrived. "As I made it up the steep incline that day I was in shock once I pulled up to the massive hotel-like structure," Nieto said. He could not believe that this building is in Oneonta and not Miami.
Although Hillside is off-campus, you still get a dorm-like feel when you enter because only students live there. It has all the benefits of living off-campus and becoming more independent by living on your own, but also has the safe and welcoming atmosphere that dorms have. Hillside Commons is a brand new option for off-campus housing in Oneonta, and those who live there could not imagine living anywhere else.