Marielle Genovesi, Arts Editor
This past Sunday, SUNY Oneonta's Music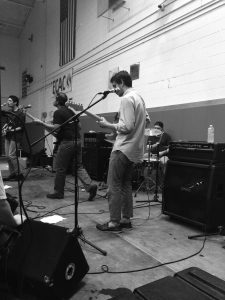 Industry Club hosted a successful first annual Welcome Back Music Festival despite the rainy weather. Packed with a mix of local and visiting bands both familiar and foreign to Oneonta students, the event ran for the better half of the day, its full schedule already a sign for better things to come for the music scene in Oneonta this school year.
The bands who played the event hailed from all types of genres. The line-up included names such as Baked Potatoes, a reggae/punk seven-member band, and KLOZAPIN, an indie/pop-psych band – both of which feature alumni and current students. Post-hardcore and alternative rock band Bray, who play under Red Dragon Records, SUNY Oneonta's Darkecy and the student band, Naughty, played as well.
Out of town bands included Off & On, hailing from Boston, Massachusetts and punk band Everything Ever, originating from NYC and New Jersey.
All of these bands were returning to the Oneonta area, having played shows in years previous. Their various followers and fans showed up throughout the day to support them.
Everything Ever told "The State Times" that this was their third show at SUNY Oneonta in the past year, coming back for the fans they've gathered nearby. Lead vocalist and guitarist Andrew Paladino – known as "dNo" – flew across the stage, managing the powerful, punching vocals and speedy riffs of the band's first single, "Doing Nothing," with ease, backed by bassist and vocalist John Trotta and Zach Sandel on the drums. The band also played songs off their record, "Solid Ground," including "Black Cats" and "Big Ideas." Trotta described his band as a "special blend of pop-punk," and a fan added, "bluntly honest punk pop." Whatever kind of punk Everything Ever is considered, they have accumulated a solid fanbase from all over after playing together for the past four years. They mentioned favorite venues of theirs, such as Elephant Graveyard in Chester, NY and 1919 Hemphill in Fort Worth, TX. They spoke with "The State Times" about plans to travel on their upcoming month-long tour beginning October 23rd.
A band familiar to the Oneonta music scene, although less than a year old in its foundations, KLOZAPIN took to the stage following Everything Ever's set. Almost the moment the band hit the stage bassist/vocalist Paul Simone asked the audience to gather up at the front. Playing songs off their upcoming self-titled record, they started out with "Head" and followed with others such as "Wasting Away" and "Perception." The hazy vocals of lead vocalist/guitarist Mitchell Todorov swam in the melodic guitar riffs of lead guitarist, Nick Madison and were perforated by Nick Connor on drums. Todorov explained that he likes to think their songs "sound like swimming through sea of melted bubblegum," their audience easily entranced by the psychedelic sounds of the music. Simone added that "playing in KLOZAPIN is like waking up in a lucid dream – once I catch the feeling, it's on." This is readily apparent, as the energetic and enthralling bassist moves across the stage as if he himself is entranced. The band has plans to play future shows in Oneonta, as well as a short tour of the east coast.
Although Oneonta will always be home, Todorov told "The State Times," "We have probably played 85 percent of our shows here [at Oneonta]," and, speaking of the upcoming Oneonta Punk Fest they are playing in October, that "It's cool to see this town get some outside credibility."
The band's first record will be out on vinyl this winter, with digital downloads hitting the web soon.
From Reggae-punk to pop-psych, a diverse amount of talent was certainly showcased at the Music Industry Club's first event of the year. With the semester just beginning, it's exciting to imagine what else the club will have to offer.