Richie Feathers, Managing Editor
SUNY Oneonta junior Eric Cullen just released his first mixtape, "Culkin Tape," and he's feeling really good about it.
Referring to his on-campus job at Wilsbach Dining Hall, Cullen – who goes by the name "Cully" – is a self-professed "back room rap star," having been honing his skills since middle school. His mixtape often presents a fresh take on the familiar life of a college student, recalling its best and most frustrating moments. But his laid back delivery suggests that Cullen plans to enjoy it while he's here.
College is for "finding out what you want to do, who you are," he says. It's "a time to not be influenced by my peers, sort of find that new group of people in line with your goals."
Although he has yet to decide his major, his academic goals include learning more about business and finance, while also focusing on art and design processing.
Cullen is from Bethlehem, NY, just outside of Albany. The natural range of influences that one often encounters in a city setting is audible from the very first listen of "Culkin Tape." Demonstrating an interest in multiple genres, the mixtape manages to combine rhythm and blues, jazz and spacey electronics in just over 22 minutes.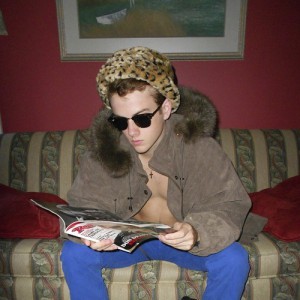 Cullen found most of the beats he used on the popular music website, Soundcloud, writing within the parameters of the track and looping some if necessary. But despite a total of eight different producers, "Culkin Tape" remains cohesive. This is largely due to his solid, often thought-provoking lyrics, written over the course of nearly a full year.
In highlight "Mila Kunis" he showcases diverse musical tastes, as well as his appreciation and wider awareness of art and society, referencing such pop culture icons as Lil Wayne, Andy Warhol and the Winklevoss Twins. Elsewhere, "Bored Games" dissects college life by discussing buxom neighbors, Adderall usage and frat brothers with no rap flow.
Cullen's loose delivery can also be credited to growing up around his father's interest in the Grateful Dead and the expansive grooves of jam music as a whole – his first concert was a Cajun Fest when he was just one week old.
Cullen also remembers listening to popular alternative rock bands such as Red Hot Chili Peppers and The Killers as a kid. He is still a fan of both.
Additionally, he thanks his brother for showing him the Harlem-bred hip-hop group Dipset, whose member, Juelz Santana, Cullen opened for as a senior in high school. He also notes Notorious B.I.G., Jay-Z, Big L and Kanye West as influences. His admiration for West is especially noticeable on early mixtape track "Have a Dream" and with the inclusion of a short "skit," both of which recall the rapper's earliest albums.
Cullen is already working on a followup mixtape, a new music video and, along with Oneonta's Hip-Hop Collective, will be opening for Big Sean in September.
As for a longer-term future, he says he hopes to write an original single with the rights intact and a firmer understanding of the business aspects that are involved.
For now however, Cullen deserves to feel proud of "Culkin Tape." As the introduction to a wider audience the mixtape is a self-assured, well-written snapshot of an aspiring rapper and talented college student.
"Culkin Tape" is available to listen to and download at Audiomack.com.