Pat Boody, Staff Writer
The UK-based band, Basement, ended its nearly two-year hiatus and made a stop in New York City at Webster Hall on August 19. Basement is a punk band that draws strong influences from 90s grunge music, which is evident in their music.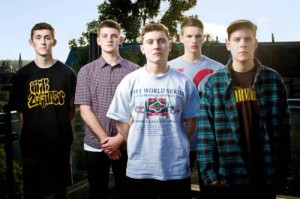 The quintet formed in 2009 but went on hiatus in 2012 after the release of their second album, "Colourmeinkindness," and a subsequent tour. The break was attributed to different interests of the members, but they have since resumed playing together.
At the show, Basement was also accompanied by Superheaven and Pity Sex. Both bands are fellow members of Run For Cover Records.
Hailing from Michigan, Pity Sex played a decent set with plenty of low, fuzzy vocals, some skilled guitar work and heavy bass lines. They created a positive ambience as they played, making the audience only further anticipate the acts to come.
Superheaven, formerly known as Daylight, followed. Hearing them play live proved evident, they were also influenced by the 90's grunge and alternative bands. Superheaven really brought energy to the New York City crowd, showcasing their use of the guitar pedal. Playing quite a few songs off their first record, "Jar," they were a terrific addition to Basement's tour. The floors of the Grand Ballroom in Webster Hall bounced as the crowd danced and moved about to the music.
Finally, Basement came on to what seemed like an even larger crowd. Opening with their song "Whole," they played many songs off of the second album and quite a few from their first, as well. Also included were two tracks from their latest EP. Calling it "well-received" would be an understatement; every crowd member was singing along, creating an echo of the lyrics and becoming a part of something historical in this genre of music.
Never have I seen a show with this type of energy and liveliness. It's something that could've only been understood through firsthand experience. The first time Basement played a New York show was at the Acheron in Brooklyn with only about 50 people in the audience. This cannot be compared to the 1,500-person occupancy that was maxed out during the August show, just their second in the city.
After finishing the set, they played a four-song encore, beginning with an acoustic version of their song "Yoke." It is safe to say that Basement played one of the best shows New York City has experienced this summer. With the accompaniment of two other great bands, a highly anxious crowd and a dramatic re-entry into the music scene, an incredible show was played.
Afterward, the band members admitted their amazement at the reception of the crowd and the overall the atmosphere of the show. There's no doubt that fans will want them to return to New York City soon.