Monica Dore, Copy-Editor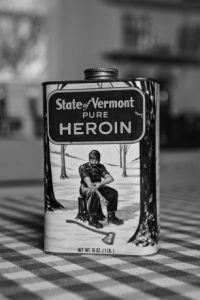 In early January, Vermont Governor Peter Shumlin dedicated the entirety of his annual State of the State address to what was then a little known problem—the growing presence of heroin in the Northeast. Previously thought of as an expensive and exclusive drug, heroin use has been on the rise in recent years. Actor Phillip Seymour Hoffman, just 46 years old, had 70 bags of heroin in his New York apartment at the time of his death. Heroin has been in the news often this year, but not just for the deaths of the rich and famous.
The surge of heroin use has been attributed mostly to the recent crackdown on legal pharmaceutical painkillers. Prescription drugs including OxyCotin, which were once easy to access for simple procedures such as root canals, are now being closely monitored, as the majority of overdose deaths in America are linked to prescriptions. According to Justin Thalheimer, the program manager at Otsego County Addiction Recovery Services, users will use heroin over prescriptions acquired illegally because it can take up to ten pills which cost between five to twenty dollars a piece to get the same effect of one twenty dollar bag of heroin. A federal study released in 2013 reported that four out of five heroin users had previously abused painkillers and because of the region's previous dependence on prescription drugs, there is now a booming market for heroin in Vermont and Upstate New York.
From 2007 to 2012, the number of people who reported using heroin within the last 12 months rose from 373,000 to 669,000. Residents in Oneonta have had their fair share of run-ins with what has been called the most addicting illicit drug. In December of 2013, local drug kingpin Edgar Joe Montes was taken down in Otsego County following a three-year investigation. Around a thousand packets of heroin, amounting to a worth of over $20,000, were seized in Montes' arrest. Just how heroin gets from the Southwest (which is where 90 percent of the nation's heroin comes from) to the Northeast is at the center of drug enforcement's concerns.
How states are choosing to handle the growing epidemic varies. Maine Governor Paul LaPage, a Tea Party conservative, is taking the crackdown approach, hoping that stricter law enforcement will combat the problem.
While in Vermont, a state that is historically liberal in these matters, Shumlin's plan is to build up more treatment facilities and help addicts get clean. A forum focused on the local problem was held in the SUNY Oneonta Hunt Union Ballroom on Monday, hosted by State Senator James Seward. The goal of the forum was to find reasonable solutions in time to write new legislation in June. The local agency is looking to follow the lead of Governor Shumlin, hoping to solve the problem by educating the public and providing more treatment options. Arresting dealers and healing addicts is the path that local forces are looking to take to solve this drug crisis.