Richie Feathers, Arts Editor
As astronaut Buzz Aldrin took his first steps onto the moon in 1969 he looked around and said, "Beautiful, beautiful…magnificent desolation." It's from this grand sense of amazement that the title of Paul Thomas Saunders' debut derives. Built on a firm foundation of masterfully rich synth, Beautiful Desolation creates a similar landscape of infinite wonder and boundless possibility.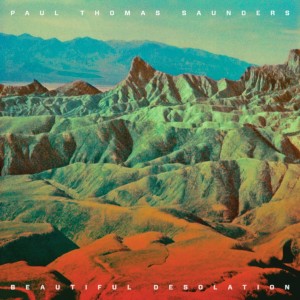 For Saunders, a soft-spoken 22-year-old from Leeds, England, with an occasionally-debilitative case of stage fright, his "love of all things interstellar" provided a limitless template for production ideas. With blankets of expansive electronics and vibrant bursts of synthesizer, the night sky is just one of the many lush frontiers that the music paints.
With a restrained tenor that glides seamlessly to ethereal heights, it's easy to compare Saunders to the spectral beauty of Bon Iver's Justin Vernon. But with a broader lyrical focus–one that is also more comprehensible–Saunders instead is essentially a singer/songwriter. Vocally, he recalls a sanded-down Jeff Buckley and Elliott Smith, just with more reverb; he can be introspective and communicative, intimate and communal.
Also drawing inspiration from the "wonderful, long single-shot scenes" of films by Jim Jarmusch, Beautiful Desolation is an unhurried and fully-realized body of music. With most tracks exceeding five minutes in length, the album relishes in its fleshed out narratives of heartbreak recovery, existential angst and self realization. Yet, both thematically and musically, Beautiful Desolation also works as a cohesive whole.
Instant highlight "Kawai Celeste" begins the record with a mighty bass drum that rips open the silence and sets the listener on a bed of pulsing synths and a gentle electro groove. The track's topics of killing fields and insufficiency carry over to lead single "Good Women," a dense dream-pop tune. The acoustic guitar-led "Appointment In Samarra" marries mysterious synths to a militaristic beat as Saunders sings of bloody hands and bodies on the ground.
"Waking Evening Prayers for Rosemary-Mai" breaks this string of dark themes with a lilting guitar and a vocal high point from Saunders. But the real gem of Beautiful Desolation is "In High Heels Burn It Down," an inescapable alt-rock track that acts as the fulcrum between the more immediately accessible first half and the sweeping second. Drenched in exuberant synths, the imaginative narrative tells of "Lonely girls with trouble at home/Who change their name to kick the shackles/Braze their knees and sing the motto/In high heels burn it down."
Beautiful Desolation continues with the tender "Wreckheads and the Female Form," a glistening ode to young love under a warm summer moon. Elsewhere, "Starless State of the Moonless Barrow" is a subtly-intricate, mid-tempo indie-pop track that triumphantly declares, "Like a diamond in the ocean, you wouldn't know it's there/It's there."
This simple thematic pinnacle is what makes Beautiful Desolation so universal. But it can also be used to describe Saunders' position in the overcrowded genre of synth-pop. He certainly is a diamond in an ocean of here-today-gone-tomorrow talents, and taking this album as an indication, he's here to stay.
Adding to his diverse list of influences, Saunders was drawn to composer Vangelis' explanation that, "What we need…to invest in is beauty. But we invest in chaos, because chaos is…more profitable." Beautiful Desolation isn't beauty instead of chaos, it's beauty amid chaos.
Key Tracks: "In High Heels Burn It Down," "Kawai Celeste," "Starless State of the Moonless Barrow"
Grade: A-