Taylor Hoysradt, Staff Writer
Since their inception in 2005, Seattle deathcore act I Declare War have carved a niche for themselves in the heavy metal industry with lyrics that deal with social issues including the FDA, war, politics and the human race as a whole, along with a persistent use of breakdowns in their music. With their fourth album We Are Violent People By Nature it is easy to notice that I Declare War haven't changed their views on the world. Although this may seem like a bit of a cop-out it actually pays off because the album maintains a consistent theme that establishes not only the lyrics as a thematic whole, but allows the band to create a dark and gritty experience throughout the album.
What I find most impressive about We Are Violent People By Nature is the melodic qualities of the guitar work found in each of its ten tracks, combined with the punishingly heavy vocals. The fact that this album contains some form of melody on each track is a big step for this band because their three previous albums consisted mainly of down-tuned riffs that were more rhythm-focused and consequently, weren't very memorable. What the guitars bring on We Are Violent People By Nature is a dark, ambient and brooding atmosphere that perfectly characterizes the emotion of the album and is a great complement to the booming drum and bass performances.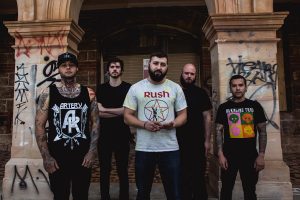 The lyrics can be a little repetitive because the overall theme of the album doesn't change, but the dark, pessimistic concepts fit well with the identity that I Declare War is trying to establish–a band that is upset with the world, and leaves no stone unturned when it comes to stating their opinion. Song topics range from displeasure of the human race on tracks like "Quiet," "Black Heart" and "Noose," to battling inner demons in "Tomb Sleep," "A Dark Hole to Crawl Into" and "Eternal I Sleep" and encounters with the devil in "Shadow Man" and "The Bad Man."
While We Are Violent People By Nature may not be a perfect album, it is certainly an achievement for a band such as I Declare War that finally found the right sound to say what they wanted to say. What we have now is a band that has harnessed all of the dark energy that drives its music and created a landmark album that has not only set standards for I Declare War, but for the increasingly monotonous deathcore scene as a whole.
4 out of 5