Hannah Griesel, Staff Writer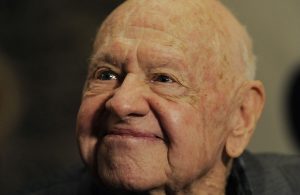 Mickey Rooney is a legendary man. His career spanned almost 90 years, beginning as Mickey McBan in 1926's "Not to Be Trusted" and ending with roles in "Night at the Museum 3" and "Dr. Jekyll and Mr. Hyde," which are both set to be released later this year. But, Rooney wasn't a one-act man–he was famous for singing, dancing and playing both piano and drums. His career persevered through highs and lows, going from the box-office king in his late teens to a Las Vegas performer to a Broadway sensation. Rooney passed away on April 6 in his Los Angeles home at the age of 93. Surviving him are four sons and four daughters from four of his marriages, as well 19 grandchildren and a number of great-grandchildren.
Rooney began his career as a child actor and was well known for the role of Mickey McGuire, which he played in dozens of shorts between 1926 and 1934. By the end of this run, Rooney had begun to establish himself as a credible actor with an undeniably bright future ahead of him. Between 1937 and 1944 Rooney played Andy Hardy in 15 Hardy Family movies. Together, these films earned more than $75 million, an enormous sum at a time when movie tickets cost only a quarter.
During this period, he acted in over three dozen movies and became a certified success. He received his first Oscar nomination in 1940 for his role in "Babes of Arms" with Judy Garland and a second for "Human Comedy" in 1943. In 1939, along with Deanna Durbin, he received an honorary Academy Award "for bringing to the screen the spirit and personification of youth." However, he found himself in tough times very shortly after these achievements.
Rooney abandoned the entertainment company that made him a star in hopes of running his own production company. As a result, the once box-office king was in debt and only acting in B-list movies. He sometimes played Las Vegas spectacles, but would often spend his earnings at the casino. Rooney also struggled with alcohol and an addiction to sleeping pills. While on "The Tonight Show With Johnny Carson" in 1968, he embarrassed himself and the audience cheered when the host asked him to leave.
Throughout these years, he took almost every role that he was offered. He received Academy Award nominations for 1956's "The Bold and the Brave" and 1979's "The Black Stallion," playing a jockey and a trainer, respectively. It was common for him to play these types of roles because he was a short man, standing only 5 feet 2 inches.
Despite these tough times, Rooney was eventually able to build back his image as a respectable actor. He stopped drinking in the 70s and made his Broadway debut in 1979 with "Sugar Babies." The critically acclaimed play ran for seven years, and Rooney received a Tony Award nomination for his part. He received an honorary Academy Award in 1983 "in recognition of his 60 years of versatility in a variety of film performances." Rooney continued acting for the rest of his life, with more recent parts in a number of television shows, TV movies and films.
He titled his 1991 memoir "Life Is Too Short," and intimately described all of the ups and downs throughout his career. Despite the title of his book, Rooney certainly lived his life to the fullest. With 338 acting credits on his IMDB page, eight marriages, nine children and 93 years on earth, Mickey Rooney took advantage of the opportunities during every decade of his life, and left a legacy that will not be forgotten.