Alex Fredkin, Managing Editor
Armed with his signature beanie and acoustic guitar, at first glance singer Dylan Ander might look like another hipster wannabe—until you hear him play. "If I had to label myself, I would call myself an acoustic rapper," Ander says. Combining a surprising rhyming ability with a great singing voice, Ander is a versatile musician, as equally at home playing with country crooners and singer/songwriters as he is with rappers. "In my dorm room I have an Eminem poster right next to a John Mayer one. Those two guys are without a doubt my biggest influences," he says.
A self-described "science and music geek," the dual pre-med and music major currently goes to Hofstra University, and has been playing music since third grade. He now plays just about everything, including guitar, piano and saxophone, all adding to his unique approach. "I like to take different facets of artists and mix them together into my own style."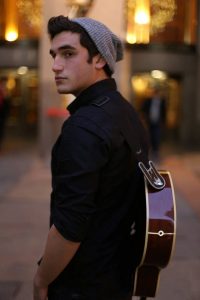 The collegiate sophomore is about to release his first EP, due out April 22. The four-song album was recorded in January in Nashville, with the video for the first single, "Musician's Song," coming out after that.
Ander likes to take inspiration from many different areas, especially his own life. One of his songs, "Simple Days," is about his struggles with Tourette's syndrome. Playing music serves as a release for him: "When I get that guitar in my hands, all of my tics magically disappear." But he went on to say that everyone struggles with something and music can help anyone no matter what issues they are going through. "Music transports you to another world, it really does."
The Long Island native feels most at home on the stage and puts a lot of time into making his live act something special. He likes using a loop pedal, often beat-boxing or playing saxophone to set up a hip-hop beat and then singing and playing guitar over that. He gets the audience involved as well, adding clapping and other sounds from the crowd into his loops.
Ander says he has gotten some great feedback at his shows so far, and he is always trying to learn from all types of music. "I have been listening to a lot of old school rap lately, trying to pick up on the subtle techniques of Tupac, Nas and Eminem into what makes their raps sound so good." While the melodies of John Mayer and the lyrics of Eminem aren't the most natural combination, Ander makes it work.
After school he has dreams of moving to a big music scene such as L.A. or Nashville and playing music full time. With the hopes that his upcoming video will go viral and listeners will like his debut, Ander is gearing up to tour this summer and spread his music to the masses. His music can be found on sites such as Facebook and YouTube, and he even has his own website in the works. So next time you're looking for an upcoming artist with a unique style, check out Dylan Ander.