Hannah Griesel, Staff Writer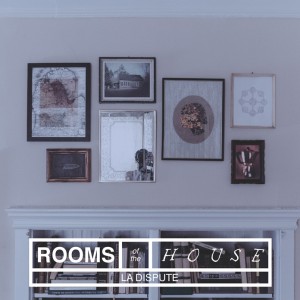 "Spaces between walls. Objects and their history. Memories knotted to everything collected here." These are the words on the inner cover of La Dispute's third full-length album, "Rooms of the House," and they are reminiscent of the way that the band has operated for some time. Throughout La Dispute's 10 years together, lyricist and vocalist Jordan Dreyer has always focused on the specific details of a situation. On 2008's "Somewhere At the Bottom of the River Between Vega and Altair," Dreyer sang about the spot on a lover's hands that he'd touch when he was out of things to say. On 2011's "Wildlife," he wrote about how it felt to see weeds growing in front of a rundown church. On this concept album, Dreyer depicts a broken relationship–small moments of sadness, failed attempts at rekindling a romance and the seemingly innocent objects that remind him of what was once there.
Dreyer's vocals on "Rooms of the House" range from his signature scream to spoken word, with more melodic singing than we've heard from him in the past. The album's unofficial second single, "For Mayor of Splitsville," which was released on February 13 with an accompanying music video, had fans wondering what else would be on the album. On my first listen of the track, surprised by a pop-punk sounding melody and sung vocals, I wondered if I had clicked the wrong link. But Dreyer began yelling after the one minute mark, shutting down my concerns. Despite the inclusion of their most radio-friendly song ever, the album doesn't hit the same highs and lows as their albums and EPs have in the past. James Shotwell for "Under the Gun" describes the album as "a work of art that is ripe with heartache and offers almost zero commercial appeal." "Rooms of the House" shows far more control than anything La Dispute has created before. The individual songs are at times difficult to distinguish, but flow seamlessly together.
Throughout reviews and comments, the only people who were disappointed with "Rooms of the House" were those hoping for a sound closer to their heavier first album. Aside from that, reviews were extremely positive. The album received perfect ratings on "Alternative Press" and "Substream Magazine," as well as a 9.5/10 from AbsolutePunk.net and 4.3/5 from "Sputnik Music." Ben Lynch for "Bearded Gentlemen Music" applauded the album, writing that to put forth the effect that they did, each track entertains "its own position within the album as a whole, and is something the band has clearly worked hard on to perfect."
La Dispute's albums aren't meant to be listened to once and immediately understood. I found myself singing along to this album before I began to understand it. On my fourth or fifth time through, I started noticing details lyrically that hadn't jumped out to me at first. The opening track, "Hudsonville, MI 1956," focuses primarily on a storm but introduces flashes of themes that will later be explored such as the 2007 collapse of the I-35W bridge over the Mississippi River in Minnesota ("Wires snap/Metal gets twisted"). "Stay Happy There" focuses on being overwhelmed by a feeling of everything happening at once. Dreyer talks about the actual storm in Hudsonville that the album opens with and the events leading up to the bridge collapse ("Somewhere a radio is playing in a living room/Says the city lacks the funds to fix the bridge").
When La Dispute announced this new album last December, one Facebook user posted, presumably half-joking, "A new album already? I'm still digesting the last one." Time will tell whether or not "Rooms of the House" will remain as satisfying three years from now. But with all this perfectly constructed material, fans are sure to be mulling over this new content for a long time to come.