Taylor Hoysradt, Staff Writer
A "supergroup" is commonly known as a band that is made up of members who have already established themselves as solo artists or as a part of another group. On May 13, a new heavy metal supergroup is set to release what is bound to be one of the most anticipated albums of 2014. This group goes by the name Killer Be Killed and includes vocalist/guitarist Greg Puciato (The Dillinger Escape Plan), vocalist/guitarist Max Cavalera (Sepultura), vocalist/bassist Troy Sanders (Mastodon) and drummer Dave Etlich (The Mars Volta).
Puciato and Cavalera started the project in 2011 and the band has taken the last three years to slowly build and polish their signature sound. Killer Be Killed's sound is a mix of groove-based metal with progressive and thrash aspects thrown in as well. The group recently released two songs from their self-titled debut album and after just one listen it is easy to realize that this group of men really has a lot of chemistry and each member brings their own style and attitude to the music.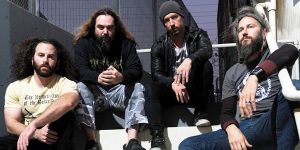 The first song, titled "Wings of Feather and Wax," hits hard right from the start and does not let up. What is most impressive about this track is the vocal work of both Sanders and Puciato. The two alternate between verse and chorus and it really works because Sander's deep, trancy voicings blend extremely well with Puciato's reckless shrieks and surprisingly melodic singing. Both men have very different styles but the contrast of their voices is what really makes the song pop, leaving listeners eagerly waiting to see how the band pushes each members' potential to the max.
The second track, "Face Down," is another in-your-face song in which Etlich shines right out of the gate, and each of the vocalists hold nothing back.
After hearing these two songs there is no doubt in my mind that this band will make a huge splash this spring. They are already in a good position if fans of the members' previous bands jump on board. Killer Be Killed has managed to create a sound that is truly their own and is going to make this album a hell of a lot of fun. If you like your metal fast, heavy and with plenty of groove, do not hesitate to check out Killer Be Killed.