Holly Lowery- Staff Writer
Spring is upon us, and not too soon. Every spring, when the snow is melting and the birds are chirping, one of my first inklings is to bust out the grill and serve up some veggie burgers with fresh spring salads. Of course we live in Oneonta, where it's still frigid and snowing between the sun rays, so the grill isn't quite an option yet; but there's no chance that I'd miss out on the opportunity to make a side dish reminiscent of warmer days. This dish is perfect because it can be served either hot or cold—it's a blend of both raw and cooked veggies; so it has those savory notes you're craving, while at the same time leaving your pallet feeling fresh.
Servings:6
Cooked ingredients:
1 cup long-grain brown rice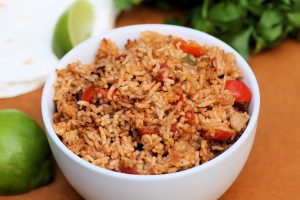 1 can red beans
1 green bell pepper
½ sweet onion
½ medium zucchini
1 cup green cabbage (sliced thin)
½ cup corn
2 cloves garlic
Raw ingredients:
½ cucumber
6 grape tomatoes
2 cups spinach
½ cup cilantro
Half of a lime
Sauce:
½ cup marinara sauce
¼ cup green Sofrito (can be found in any ethnic food aisle)
½ tbsp chipotle powder
1 tsp garlic powder
1 tsp agave (or other natural sweetener)
Cook the rice either in a pot or rice cooker first (this will take around 40 minutes). Rinse the beans well, set aside. Dice peppers, onion, zucchini and cabbage, and sauté in a large pan with ½ cup of water. Let simmer for about 10 minutes then stir in the corn and make space in the pan to cook the garlic. Let the garlic heat for about 3 minutes then stir it into the rest of the mixture. Continue cooking for about 3 more minutes.
While that is cooking, chop all the fresh ingredients and set aside. Combining all the ingredients except for the sauce and set aside.
When the rice is done, fold the beans into the pot to warm them. Remove from heat and let cool for about 15 minutes. Add the raw ingredients and sauce, stir well. Finish with the fresh lime juice, sea salt and pepper!