Richie Feathers, Arts Editor
The unlikely success of Foster the People's 2011 hit "Pumped Up Kicks" was made all the more shocking when listeners realized it was about a school shooting. The dark veins of the track, however, were drowned out by the otherwise bright, immediate indie pop of the group's debut, Torches, an album which spawned four additional singles. Written after Columbia Records scooped the band up upon hearing "Pumped Up Kicks" in 2010, the album was more a collection of backup songs than a cohesive movement. Yet, each track offered its own exciting appeal and Foster the People became the best new band of the summer.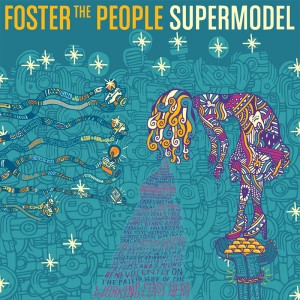 Despite the momentous introduction that his Los Angeles-based band was allotted, Mark Foster isn't content. Following a two-year run of 300 shows, he and bandmates Cubbie Fink (bass) and Mark Pontius (percussion) continued to travel abroad, finding themselves in India and later Morocco, where the writing process for a second album began. Being out of his comfort zone allowed Foster to look back at the home front–and he didn't like what he saw: a congestion of superficiality and dishonest projections of people; in other words, a culture of supermodels. Foster the People's aptly-titled sophomore effort blends the band's recent world influences with a concentrated critique of America's desensitized society.

Supermodel is an unapologetically darker record than Torches, choosing instead to display lyrical depth as well as musical ambition, whereas the latter album sometimes compromised one for the other. The characters that inhabit these tracks are isolated. They cut off limbs and cough up blood, struggling to answer the question Foster poses for every listener: "Is this the life you've been waiting for?"
Album opener "Are You What You Want to Be?" asks a similar question over an afro-beat rhythm, waves of synthesizer and a driving electric guitar. The track's massive scope establishes the harder, guitar-driven sound of the record, and it's this consistency–as well as the album's themes–that helps make Supermodel such a satisfyingly cohesive listen. In addition, employing a sole producer, as opposed to the four that contributed to Torches, allows for a single vision to be carried out in full. Foster collaborated closely with Paul Epworth (Adele, Friendly Fires) and their willingness to expand and experiment has created an enjoyable, if uneven, set of songs.
While lead single "Coming of Age" expresses an existential anxiety in a manner as familiar as it is catchy and "Pseudologia Fantastica" covers the listener in a blanket of warm synth lines and Foster's taut-then-tractive tenor, the album gets occasionally weighed down by its abrupt thematic pessimism. Clunky lyrics such as, "Stop drinking the wine that's been dripping/From lips of the gluttons/And envying their bloody teeth," are vividly blunt but don't always sit snugly in their musical context.
But perhaps this dissonant expression of difficult topics is exactly what the band was aiming for. Either way, the missteps on Supermodel don't diminish the album's offerings of numerous potential new styles that Foster the People seem capable of fleshing out in the future. Where the horn-assisted "Best Friend" proves they haven't lost any Top 40 flair, "The Truth" mixes electronica and melodrama with a chorus that recalls Congratulations-era MGMT and the acoustic "Fire Escape" is a startlingly gorgeous and bare album closer.
In 2011, Foster was tying his hands up to a chair to keep from making any impulsive decisions. But three years later he's realizing that "you'll never be whole until you lose control." And this newfound freedom has been translated into Supermodel, where the trio take on a perspective as outsiders of this culture. Yet, the outside has never sounded so inclusive.
Key Tracks: "Best Friend," "Coming of Age," "Are You What You Want to Be?"
Grade: B