Afua Nuro, Staff Writer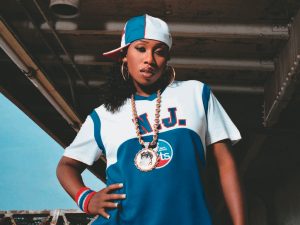 When you think of the rappers that you enjoy, do any females come to mind? Can you name more than two?
When you think of rap music and women the only name that may come to mind is Nicki Minaj. Rap and hip-hop music has always been a male-dominated genre, but now it seems like an exclusive boy's club.
In an interview with NPR, MC Lyte, who in 1988 was the first female rapper to ever release a solo album, said that the space she and other artists helped open up for women seems to have closed. Record labels of today say they do not want to sign many female rappers because of the financial cost it may have on their label. It can be far more risky to sign women artists because of the additional costs associated with their physical appearance. Hair, make-up and wardrobe can be expensive, which make women an even more questionable business endeavor. Especially when there is no guarantee that they will succeed and bring the label any profit.
When you look at rappers of MC Lyte's generation, such as Queen Latifah and Salt-n-Pepa, there was little concern about their appearance. The focus was on their lyrical ability and whether or not they could stand toe-to-toe with their male counterparts. With rap becoming more and more misogynistic, it is hard for female rappers to try to break into the mainstream without being oversexed. Record labels want male rappers that can keep up the "gangster" persona that is normally associated with the genre. This gimmick has always helped rappers sell records and in turn create profit for their labels. Some hip-hop performers and radio hosts such Angela Yee from The Breakfast Club on Power 105.1 believe that the hip-hop community wants one successful female rapper at a time, and right now that's Nicki Minaj.
Minaj was the last female to have a rap album released to make the Billboard charts in 2010. Before her was Lil' Kim in 2003. Since 2011, every year has been touted as the year of the female rapper by hip-hop fans. Yet, in 2014 there are only a few female MCs such as Angel Haze, Iggy Azalea and Azealia Banks who gain any attention. And without label support, chances for their mainstream success are slim to none.
There was once an abundance of female rappers in the spotlight. Salt-n-Pepa, Lauryn Hill, Lil' Kim and Missy Elliott are all platinum-selling recording artists. Many female MCs were also in major rap groups such as Lady of Rage in Death Row, Rah Digga in Flipmode Squad and Monie Love in Native Tongues. In 2003, the Grammys even had a Best Female Rap Solo Performance category, but it was removed after just two years.
If you were looking for new female talent in the rap genre to break out onto radio airwaves anytime soon you may be disappointed. With the direction hip-hop is taking, we may not see another female become as big as Nicki Minaj until she decides to retire.