Sara Buterla, Staff Writer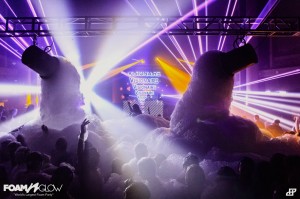 On Friday March 14, the wettest, foamiest show around came to the Oneonta Theatre. This stop off the "Foam N' Glow" tour was the first of twelve stop sites that will get to experience the high energy music, LED lights, screens and of course tons of foam.
The event was promoted by U Is Nation, the company responsible for the famous Masquerave shows that sold out the Oneonta Theatre. U Is Nation is run by SUNY Oneonta alum Pete Montesano. SUNY Oneonta's very own Swanky Media provided additional support and promotion. Before the event even kicked off, it was promised to be a night you wouldn't want to miss.
Between Facebook posts, flyers and word of mouth advertising, "Foam N' Glow" was the talk of the town. Tickets were sold in various tiers, ranging from $24.50 to $52.50 and were available through the event website. In addition, tickets could be purchased at the door the night of the event. Attendees from both SUNY Oneonta and Hartwick College raged the night away.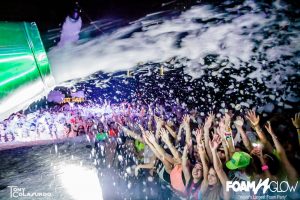 The party began when doors opened at 8 p.m. and didn't stop until 1 a.m. With an impressive list of DJs on the schedule, attendees were on their feet dancing all night. The setlist kicked off with SUNY Oneonta senior Dan Turrisi, who goes by his stage name, DJ Snowmiser. Turrisi is no stranger to the Oneonta Theatre stage and always brings a large fan base. During DJ Delux's set the foam began to flow. Syrus' set kept the crowd going and built up the hype for Visionaire, who took the stage as the event's headliner. He is an up-and-coming DJ who has gained recognition from many of the mainstream EDM artists. When asked his thoughts about playing small town Oneonta, Visionaire's response was, "I didn't expect this, I was driving here and didn't think there could be a rave here but tonight was unreal."
In addition to the main DJs on stage, local acts such as DANZØ, Palemen and DJ Spades played their sets in a smaller room located in the upstairs portion of the theatre. Various drinks and food were available from the bar and concession stand.
By the end of the night the whole dance floor was a swimming pool of foam. The foam cannon blasters did their job and got Oneonta soaked. "Foam N' Glow" was a big success.