Danielle Rennard– Culture Editor
If you're looking to have a healthy start to your day while also indulging in a highly enjoyable dessert, carrot cake pancakes are definitely for you!
Total Time: About 1 hour
Preparation: 15 minutes
Inactive Preparation: 30 minutes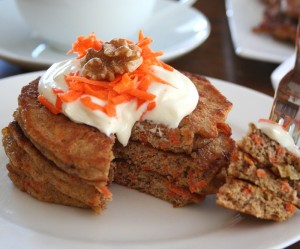 Cook: 15 minutes
Ingredients:
1 1/2 cups all-purpose flour
4 tablespoons pure cane sugar
1 teaspoon baking powder
1 teaspoon pumpkin pie spice
1/2 teaspoon baking soda
1/2 teaspoon fine sea salt
2 large eggs
1 1/2 cups buttermilk
3 tablespoons unsalted butter, melted and cooled
1/2 teaspoon pure vanilla extract
1 cup packed finely grated peeled carrots, patted dry on paper towels (about 3 medium carrots)
1 teaspoon finely grated orange zest, optional
1 tablespoon finely diced candied ginger
Optional: 1/4 cup finely chopped toasted pecans or walnuts
Cooking spray or melted butter
Directions:
Whisk together the flour, sugar, baking powder, pumpkin pie spices, baking soda and sea salt in a large bowl. Whisk together the eggs, buttermilk, melted butter and vanilla in a separate large bowl. Add the carrots and orange zest, if using, and mix until smooth. Add the wet ingredients to the dry ingredients. Fold in the ginger and pecans, if using, and mix until just combined. Let the batter sit for at least 30 minutes. Heat a large nonstick skillet or griddle over medium heat and coat the skillet with cooking spray or brush with melted butter. Spoon 1/4 cup mounds of the batter onto the skillet, spreading with a spatula. Cook until the tops are covered with bubbles and the edges look cooked, which will be about two minutes. Carefully flip the pancakes over and cook until the bottoms are lightly browned, which will take about one minute. Repeat with the remaining batter. Enjoy warm with syrup or some delicious cream cheese drizzle!