Richie Feathers, Arts Editor
Alt-rock pioneer Annie Clark just released her fourth solo album under the moniker St. Vincent–and it's marvelous. Already garnering plenty of critical acclaim, the record mixes universal themes of growth, love and regret with a focus on synthesizer, electric guitar and intricate detail. But at the core of the album lies a woman who ultimately feels disconnected from the world she's found herself in: a world of digital over-saturation. Clark is particularly frustrated with having to jeopardize privacy for a social outlet. And, placed at the center of the album, "Digital Witness" is the most brutally honest yet cheekily-fun example of this exasperation. This track is stitched together with a funky horn section, fuzzy electric guitars and spacey synth lines weaving underneath. But what gives it the resonant impact are its lyrics.
"People turn the TV on/It looks just like a window," Clark states. Although we tend to reassure ourselves that the television screen protects us from those behind it, this line suggests that we as viewers are not so different than the people we watch. And it's true; when we look out our windows do we really see anything too different than a less eccentric version of an hour of MTV?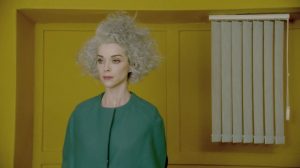 After, commenting on our devotion to social media and sharing one's self, one of the most accurate moments of the song comes when Clark sings, "If I can't show it, if you can't see me/What's the point of doing anything?" While this is certainly tinted with satire, it doesn't seem too far off when considering the fact that there's rarely a personal or exciting moment we leave unproven. She continues with, "What's the point of even sleeping/If I can't show it, if you can't see me?" Again, it's an exaggerated bluntness, but there is still an edge to it that cuts a little deeper.
Clark examines how we feign interest with a Facebook "like" by singing authoritatively, "Get back to your stare/I care but I don't care." This corresponds well to the song's title, "Digital Witness." The first half of it is obvious, but the word choice of the second implies one who is needed to supply evidence or proof to a higher authority, perhaps in the form of a selfie or Snapchat. "Digital Seers" or "Digital Watchers" would have gotten the point across, but "Digital Witness" leaves a bittersweet aftertaste.
Switching her perspective from the user to the used, Clark commands, "I want all of your mind." And this consciousness of a piece of technology is illustrated in the track's music video. Set in an industrial dystopian society where everything is pristine and geometric and everyone wears jumpsuits, the video is an unsettling image of both conformity and isolation. But it offers Clark's perception of what our future could look like. It doesn't show any computer, phone or tablet screen in front of our eyes, but its characters exhibit emotionless faces and have been drained of individual features–they've left no pieces of themselves unshared and they have no privacy left.
Both "Digital Witness" and its music video are artful impressions of where our generation is heading, the former especially presenting likely predictions. We, the Millennials, have seen numerous, immensely impressive advancements in technology in our lifetime and it's understandable to be taken with the immediacy that's been given to us. Clark never places herself above anyone else, but she refuses to ignore the future. In the end, she loses the fight, answering her previous question by confessing that she's stopped sleeping. Yet, she realizes she'll never be content without her privacy: "Won't somebody sell me back to me?"
The bidding starts now.