Richie Feathers, Arts Editor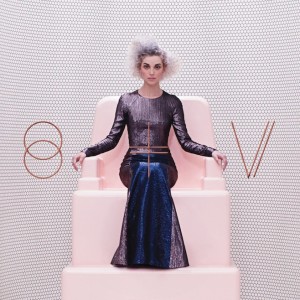 From the cover of St. Vincent's self-titled fourth album (excluding her collaboration with David Byrne, 2012's Love This Giant), Annie Clark, clad in a futuristic gown of metallic purple and blue, is sitting atop a throne and staring at her listener; into her listener. She is sporting a fresh hairdo of untamed light grey wisps and is meant to recall a "near-future cult leader."
Although this portrayal is intended to be more ironic than iconic, Clark's innovative career of fearless sonic endeavors and dynamic, energetic performances has placed her at the very height of the alt-rock circuit. And with St. Vincent, perhaps this "near-future" isn't too much of a stretch either.
Nearly 36 hours after ending a relentless, 18-month run of two, back-to-back tours supporting her third album Strange Mercy and Love This Giant with Byrne, Clark began writing her next project. The result: her tightest, most cohesive record to date.
Contrasted to the artful orchestration of earlier albums Marry Me (2007) and Actor (2009), St. Vincent focuses almost exclusively on the combination of sophisticated synths and her signature guitar virtuosity. While each track is wholly individual, they share a quality of blurring the line between human and machine–a designed product of filtering portions of guitar into discolor.
In interviews, however, Clark firmly assures that "everything you hear is man-made." And it's true, the album never sacrifices its human core for its sleek artificial shell.
This resistance to handing over full artistic control to technology is a common theme that runs throughout the album. Most notably, lead single "Digital Witness" bluntly deconstructs America's insistence on over-sharing personal information. Utilizing a bouncing, funky horn section, sinister guitar flourishes and hilariously deadpan "yeah"s, St. Vincent satirically asks the listener, "If I can't show it, if you can't see me/What's the point of doing anything?"
Elsewhere, she expresses being "entombed in a shrine of zeroes and ones" in reference to the binary code, the complex inner-workings of the Internet.
Yet, this misanthropic view of our techno-incessant 21st Century doesn't weigh St. Vincent down. Instead, it offers a distinction between what happens when we lose control (our iPhone-dependent daily routines) and what happens when we take control (this new album).
St. Vincent is also often startling as most tracks follow nonlinear structures, navigating numerous musical twists and turns before their three-and-a-half minutes are up.
Album opener "Rattlesnake" recounts Clark's nude nature walk in the West Texas sun cut short by the encroaching titular serpent over glitchy synths, which abruptly turn slimy on the final minute's excellent guitar solo. Later, "Huey Newton," written as an Ambien-assisted stream-of-consciousness, spends its first half in a slow-paced electro groove before erupting into a commanding flurry of hazy guitars.
But the musicianship isn't the only aspect of St. Vincent that remains exciting upon each repeated listen. Clark's lovely voice also divulges into numerous angles, weaving–often in an improvisatory fashion–in and out of each track. She's mighty in "Birth In Reverse," slinky and dominating in highlight "Bring Me Your Loves" and bare in closer "Severed Crossed Fingers."
"I think I sound like myself on this record, so I self-titled it," Clark said of the album. And St. Vincent is the sound of a strong and confident woman dissecting, instructing and ultimately living in a modern world she doesn't quite connect with, looking to what lies ahead.
Clark may not be a near-future cult leader after all, but that doesn't mean we shouldn't follow her like one.
Key Tracks: "Digital Witness," "Rattlesnake," "Birth In Reverse"
Grade: A