Sara Buturla, Staff Writer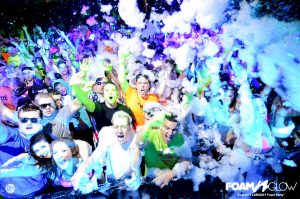 Looking to do something a little different than usual on a Friday night? The renowned "Foam N' Glow" event is coming to the Oneonta Theatre on March 14. It's known as the "World's Largest Foam Party." And it's an event that many won't want to miss.
The Oneonta show is just one stop in the Foam N' Glow tour, which is currently hitting twelve cities across the country. The event is promoted by "U Is Nation," the company responsible for the sellout Halloween Masquerave at the Oneonta Theatre. SUNY Oneonta's very own Swanky Media is providing additional promotion and media support. As the Masquerave show was such a success last year, the Foam N' Glow party is shaping up to be another hit. The show will consist of high energy music, dancers, and of course, tons of foam.
Ticket sales are broken up into multiple tiers ranging from $24.50 to $52.50 in price. Tickets are available online at Foamnglow.com. Doors will open at 8PM and the show will go on until 1AM. The list of performances will include acts such as Visionaire, Syrus and Delux.