Tyler Marko, Staff Writer
Like waking up on Christmas morning with a lot of initial excitement followed by a vague sense of disappointment, ScHoolboy Q's latest album Oxymoron left me with a similar feeling. After numerous delays, the California rapper dropped TDE's (Top Dawg Entertainment) first major record since Kendrick Lamar's good kid, m.A.A.d. city. Expectations were sky high for Q as his debut Habits and Contradictions was hailed as one of the best records of 2012–along with Q's claim that he's "gotta be better than Kendrick," an endorsement from Mac Miller claiming Oxymoron was better than good kid, m.A.A.d. city only added fuel to the fire. But most fans realized this was not likely by the time 2014 rolled around and anticipation for Oxymoron was at an all time high, and that could be where the issue lies for Q.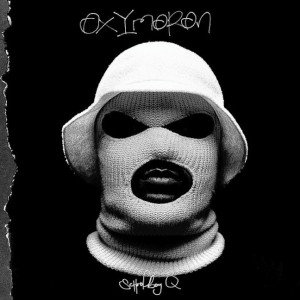 However, disappointment does not necessarily mean it's a flop. Quite the contrary, after several listens through I can't name one song I didn't like. Q named 50 Cent as one of his biggest influences, and it shows on this album. Oxymoron is reminiscent of some of the best gangsta rap albums of the early to mid 2000s and does so without sounding dated in the least. With beats from the likes of Pharrell, Mike Will Made It and Tyler the Creator, each song sounds distinct while also maintaining a cohesive element.
Throughout the album, Q focuses mostly on his early life growing up in South Central LA, writing about living with his drug addict uncle and eventually becoming a member of the Hoover Street Crips. Other tracks focus on his time selling Oxycotin and other drugs as a way to provide for his daughter, Joy, who also serves as the narrator of the album. In Q's own words, this is the oxymoron of Oxymoron–he's selling drugs and breaking the law, but he's doing it all to provide for his daughter.
The rest of the songs are mostly what would be considered party songs. His single "Hands on the Wheel" featuring A$AP Rocky got Q some mainstream recognition from his old album. After the way Lamar had blown up in the past year, Oxymoron was a great chance for Q to really explode. TDE has long claimed this to be their plan: to springboard off each other's success. We should see full projects from labelmates Ab-Soul and Jay Rock within the year.
It appears that all is going as planned for TDE. With Lamar on "Collard Greens" and numerous features from the likes of 2Chainz, Tyler the Creator, Raekwon and Kurrupt, this album has something for every rap fan.
But it seems Q has also been a victim of his own hype. Oxymoron is a solid album, but there is still the feeling that something is missing. After what was said about it before the release, anything short of an instant classic would be considered a disappointment. Oxymoron will revive a lot of praise and also give Q a major boost in popularity, however, when comparing one's album to Lamar's there is a certain bar that has been set that is nearly impossible to reach. This may take away from how this album is looked at, but does nothing to take away from the actual music. I'll give Oxymoron 4 stars out of 5 and you can bet I'll be looking forward to whatever Q and TDE cook up next.