Taylor Milone, Contributing Writer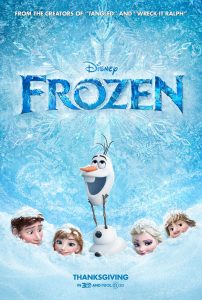 If you, like many, think Oneonta is experiencing an eternal winter, you should visit Arendelle, the home of Queen Elsa and Princess Anna, the main characters of Disney's hit, "Frozen." After Anna exposes her sister's secret power, Elsa accidently puts Arendelle into an eternal winter, then retreats into the wilderness. Anna sets out to find Elsa to reverse the winter and rekindle the relationship with her distant sister. To help Anna on her journey, she is accompanied by a kind stranger named Kristoff, his reindeer Sven and the bubbly snowman, Olaf.
Many have regarded "Frozen" as Disney's most progressive film to date. For starters, Elsa does not have a king. She rules her own kingdom by herself and her people don't mind. Other examples are Anna's burping habits, messy hair and awkwardness. She is seen as beautiful for being herself, like every girl should be. "Let It Go," sung by Elsa, is an original song that she uses to proclaim her self-acceptance, regardless of her secret, debilitating power. This is the beginning of what might be a Disney revolution.
As of early February, "Frozen" earned more than $360 million at the domestic box office and another $500 million abroad. It even won Oscars for Best Animated Film and Best Original Song. The soundtrack itself is climbing Billboard and iTunes charts, being only the fourth animated movie soundtrack to ever reach number one on the Billboard 200. "Frozen" is currently the 19th highest-grossing film of all time worldwide. Disney has also confirmed that "Frozen" will be hitting Broadway sometime in the near future.
Luckily, you will have the opportunity to see this crowd favorite here in the Red Dragon Theatre. It will be playing on Friday, Saturday and Sunday, March 7-9, at 6:30 and 9PM with a Sunday matinee at 1PM.