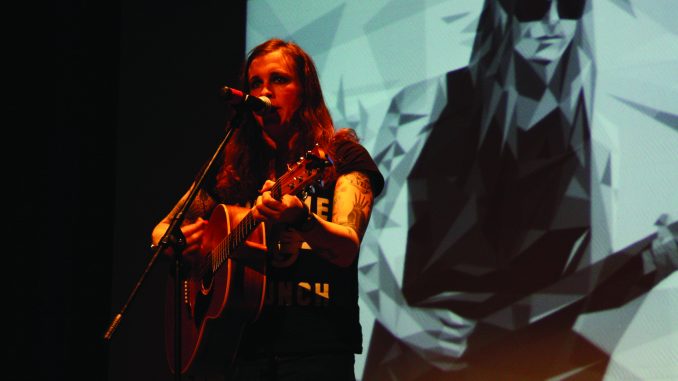 Alex Fredkin, Managing Editor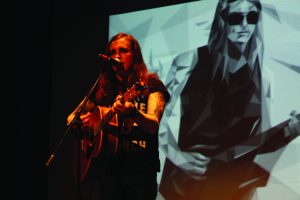 On Monday, February 10, SUNY Oneonta was lucky enough to be a part of a historic event. Laura Jane Grace, lead singer of the punk band Against Me! visited the campus in order to speak on her transition from a man to a woman and to play an acoustic set for the audience.
Laura Jane Grace was born Thomas Gabel in 1980, and has dealt with gender dysphoria throughout her entire life. Gender dysphoria is when a person identifies with a gender that is different than that in which they were assigned at birth. Grace started the band Against Me! when she was 17 years old, now at 33, this band has clearly been a huge part of her life.
The event Monday night was the first time Grace has done a lecture speaking about her transition and her experiences. The event was put on by the Gender & Sexuality Resource Center and the Music Industry Club. The director of the GSRC, Elliot Ruggles, interviewed Grace on stage for about half an hour before she performed. Grace is a well-spoken woman, and is very forthcoming about what she has been going through. She was very relaxed on stage and spoke about these difficult issues with ease, but it was also evident that she is a fragile person who has overcome much hardship and adversity during her life.
Having come out as transgender officially in May of 2012, Grace's band Against Me! has been thrust into the spotlight in a way that most bands have not. Already an acclaimed band, Against Me! had not released an album since 2010 after undergoing many lineup changes. Their latest album is the first since Grace came out, and with the title "Transgender Dysphoria Blues," she is not shying away from the topic on everyone's minds. Speaking on gender dysphoria Grace said in her interview, "I want to talk about it and I want to educate people about it until we get to the point where it's a non-issue."
She is a very understanding person, and said herself she is not easily offended. Her main goal at this point is to help shine light on an often misunderstood topic, "There is no such thing as a stupid question" Grace said to the audience. She said that the online community has helped her out a lot with her transition, and since coming out has received overwhelming support and has been able to help others who are dealing with some of the same issues as she is.
For Grace, music has always been a form of escape, and has helped her cope with life's issues. While she felt trapped in her body at times, playing songs and punk music was always an outlet. "I couldn't express who I was in one way, but I could in that medium. Putting on a spiked leather jacket and changing up your hair in that way was an armor."
Performing is obviously where Grace feels most at home. After her in-depth interview the singer grabbed hold of an acoustic guitar and played a lengthy set of around 10 songs. After playing on David Letterman just two weeks ago, the members in attendance were in for a real treat.
The powerful singer played some of her most popular songs as well as some off of the new album, and gave the students a little bit of background into each song beforehand as well.
Grace's perfect punk growl shone through in all of her songs, and it was obvious that she pours her heart and soul into each one she writes, as she passionately strummed her guitar.
Grace shared some intimate and personal details with the audience too. She played "Two Coffins," a song the singer said was written for her daughter, who is now four years old.
Grace shared a sobering statistic with the crowd, saying that over 40 percent of transgendered people attempt suicide during their lifetime, and confessed that she is part of that group. Grace then covered "Shivers" by the Birthday Party, saying that the song helped her cope.
Each performance drew loud applause from the audience, who was obviously very appreciative and supportive of Grace. Her interview was enlightening and educating to those in attendance. Grace has become a new role model for transgendered people, and she is well equipped to handle the position.
The lecture on Monday night was not only a first for the music industry but for gender equality as well. Laura Jane Grace is making history with her fight, and the students of SUNY Oneonta in attendance were honored to be included.