Marielle Genovesi- Culture Editor
Fancying a festive drink to make for your legal-aged sweetheart this Friday? Looking for a reason to drink in the name of love? Or do you hate Valentine's Day and plan on getting drunk with all your single friends who are obviously cooler than everyone who is in a relationship? Check out this easy, classy, Valentine's Day themed cocktail to get you into whatever mood you feel like being in on this holiday.
1 1/2 ounces vodka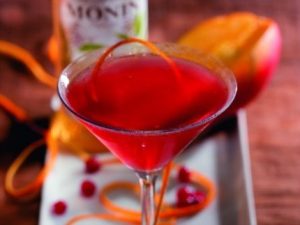 1 ounce Grand Marnier
2 ounces cranberry juice
1/2 ounce fresh lime juice
1. Place all in a shaker with lots of ice and shake well.
2. Pour into a chilled martini glass.
3. Garnish with an orange rind.
4. Think loving thoughts for someone out there, even if they're only for your dog.