Hannah Griesel, Staff Writer
Coming to the Red Dragon Theatre on February 7th–9th is "Catching Fire," the second movie based off of the "Hunger Games" trilogy by Suzanne Collins. The movie starts shortly after the end of the 74th Hunger Games, when Katniss Everdeen (Jennifer Lawrence) and Peeta Mellark (Josh Hutcherson) are preparing to embark on a "Victor's Tour" of all the districts and the lavish Capitol. Katniss soon discovers that her means of survival were viewed as an act of rebellion to many and aims to stop this message before it spins out of control. For those who aren't thrilled by the concept of a movie based on a book that appeals to tweens: this is no "Twilight." The message is more about an all-controlling, post-apocalyptic government than it is about the struggle between Gale (Liam Hemsworth) and Peeta for Katniss's affection.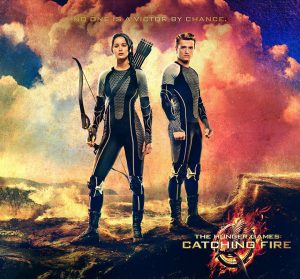 The movie excels both in plot and action. The story is a fascinating one that can be enjoyed by those who have read the book and can anticipate what comes next, as well as those who have no prior knowledge. Also, it isn't necessary to have seen the first movie in the series. The recap of events isn't obvious or redundant, but just enough information is presented to bring a new viewer up to speed. As for action, one can expect to see some blood, poisonous gas, man-eating primates and more. An eventful ending brings you right up to the start of the next movie in the series.
A difference between the first movie and the second, besides a significant budget increase, is the amount of emotional depth in the characters and their relationships because they've known each other for a longer period of time. According to Haley Fredrick of the Huffington Post, "After 'Hunger Games,' I wasn't sold on Jennifer Lawrence and Josh Hutcherson… but after their performances in 'Catching Fire,' I could not be more pleased with the casting of these movies." The sentiment seems mutual between other reviewers. Where the original movie lacked, this one certainly delivered. Fredrick also noted that Lawrence was more true to the character in the book and her emotional scenes were completely believable.
"Hunger Games" received an average rating of 84 on Rotten Tomatoes, while Catching Fire rose to 90. Additionally, "Hunger Games" received an average rating of 67/100 on Metacritic and "Catching Fire" earned a 75/100. Fans were forced to wait a long 20 months between the premieres of the first two movies, but luckily, Part 1 of "Mockingjay" is set to be released this November and Part 2 is set to be released in November of 2015. If the pattern continues and the quality of the movies still increases, viewers are going to be in for a treat.