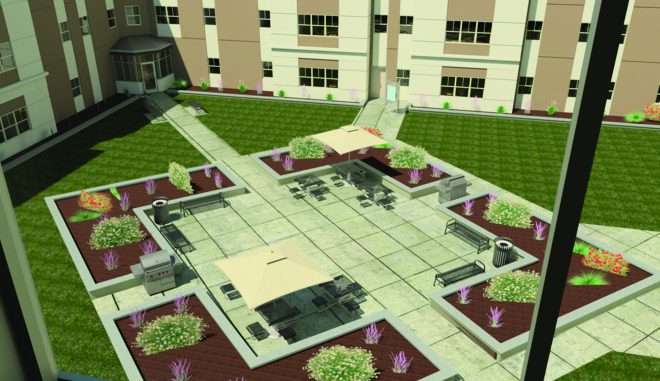 Ben Winters, Staff Writer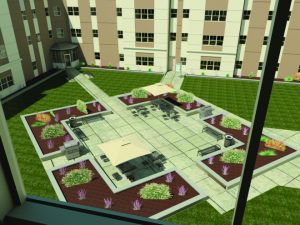 Each year students are faced with the decision to live on campus or off. The prospect of making this decision can be overwhelming, with the college urging students to stay on campus, while companies like Peter Clark Rentals and Rental Company One trying to entice students to live off campus through promises of more freedom. Starting next year, a third option will be available to students, called Hillside Commons, that combine aspects of both on and off campus living.
The apartments are being built directly adjacent to the baseball fields above Hunt Union, providing the feeling of being off campus in your own apartment while maintaining the luxury and convenience of being close to classes. Despite its location, Hillside Commons is unaffiliated with the school. The company will offer many different options for room styles, including singles, doubles and triples, with all of the layouts and starting prices listed online.
Available to juniors and seniors, the apartments will offer the "ultimate choice for off-campus living" with rooms of all different sizes, and perks such as a cafe, computer lab, tanning beds and a gym. But for many students the best perk of all is the complex's location. Paige Warsak, a freshman at Oneonta, thinks the Hillside apartments are the perfect balance between on and off campus living, saying, "You can easily do on campus activities without worrying about traffic or getting a bus, but you can still have that freedom of living in your own space." On weekends the Commons will also offer a shuttle to downtown Oneonta directly from the complex.
In a statement about their company, Hillside Commons said, "We are so excited for the grand opening this August. Hillside Commons is a state-of-the-art all-inclusive student only apartment, built with student success in mind."
Hillside Commons will be the most costly housing option for students, with the cheapest double room starting at $805 a month. This totals around $8,000 from mid-August to mid-May, about $1,500 dollars more than the average on-campus double for the year, all before factoring in any additional expenses such as furniture. Another problem with the cost of living off campus, as some students are concerned, is that FAFSA or other aid programs, including EOP, don't cover the high costs. "It's way too much, and then I'll have to deal with buying food, transportation and everything else the school provides now through aid money," says Diamond Loran, a freshman at Oneonta.
Hillside Commons' price ranges follow SUNY Oneonta's trend of higher living expenses than surrounding schools. Oneonta housing for students is becoming more and more costly, with a standard per semester price now around $2,000-$2,500. Yet a student rental for SUNY Delhi costs between $1,500-$2,000, with Binghamton being lower than that.
SUNY Oneonta requires most students to stay on campus for two years before moving off, as opposed to most schools, which only require one. In order to combat the move off campus brought on by the Hillside Commons and other alternative living arrangements, SUNY Oneonta plans to possibly lower the quad, suite and apartment style room rates to encourage juniors and seniors to stay on campus, according to the 2012-2013 Annual Finance and Administration Report.
Despite these adjustments from the college, off-campus living is as popular as ever. Senior Pat Salvatore says of living off campus, "It's great because you're able to have your own freedom and live independently."
Many rooms offered by the Hillside Commons are already sold out for next fall, proving many believe living in the Commons next year is a worthy investment.