Sarah Meltzer, Staff Writer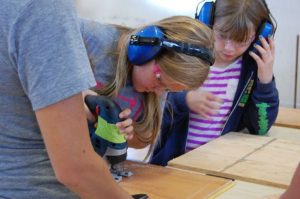 A new camp invented by 26-year-old Emily Pilloton has introduced the idea of true girl power. Camp H is  program in Berkeley, California that teaches young women ages 9-12 how to use power tools. This is a skill many women have been sheltered from  but one that is both useful and at times, necessary. The after-school course incorporates the studies of STEAM (science, technology, engineering, arts and math) through the work required at the camp. Some of the projects include building birdhouses, toolboxes and steel symbols. Besides building, girls also learn how to fix things using electrical equipment and automotive instruments. Thanks to Camp H, girls will become the new 'Bob the Builder' of the century. Instead of viewing the use of power tools as a man's job, the world will soon turn to women for help and realize how capable and strong women are.
Through a telephone interview with Slate Magazine, Pilloton recalled, "I want to teach [girls] how to weld. And to work on projects that don't feel artsy and craftsy. Not like straight-up wood-shop, but to balance the creative and artistic side." The current winter session, titled "I Can Fix Anything!" started on January 28 and runs until March 18. However, starting July 7, kids will have the opportunity to build pieces for the Women's Daytime Drop-In Center, which provides services to homeless women and their children. The project may be a piece of furniture, sculpture, or even lighting.
Camp H proves to the world that anyone willing to work hard can create something outstanding. Thanks to Emily Pilloton, girls have a chance to break out of their shell and do the unexpected.