Holly Lowery, Staff Writer – The Vegan Corner
Whether you've recently decided to give up meat, or just want to eat less of it, I have a "chicken" recipe you're all going to love! Tempeh may be foreign to many of you, so here's a quick low down: Tempeh is a meat alternative, sort of like tofu, but with a less chewy texture, significantly less soy, and it's less processed. So if like me, tofu freaked you out your first couple go-rounds, I really encourage you to give tempeh a chance. It's a significant source of protein, and for those of you who are having trouble suppressing those meat cravings, it does a really nice job pretending to be chicken. You can top a salad with it, stir-fry it, grill it, serve it on a sandwich; the possibilities are endless. This is one of my favorite ways to have it.
For the tempeh you'll need:
1 package tempeh (can be found in the produce or health section at almost any grocery)
1 cup vegetable broth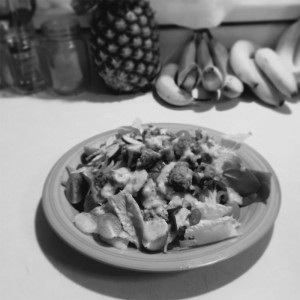 2 cups water
1/3 cup of Frank's Hot sauce (or whatever your favorite is)
1 tbsp. Siracha (if you're a spice fanatic like me)
1 tsp garlic powder
1/3 cup of green onions, chopped
Tear the tempeh into strips. Combine with water in a pan, simmer for fifteen minutes. This will remove the subtle bitterness tempeh can sometimes have. Drain and reduce to low heat. Combine everything else in a pan, except the green onions. Simmer for 7-10 minutes and add green onions about a minute before the tempeh is done.
For the dressing you'll need:
¼ of an avocado
¼ cup almond (or regular) milk
1 tsp garlic powder
1 tsp onion powder
½ tsp nutritional yeast (optional)
Pinch of dill
Combine all until smooth. Add water to thin if necessary.
Serve these over fresh greens with cucumber, tomatoes, fresh bell peppers, or whatever else you'd like (makes about three servings.)