Monica Dore – Staff Writer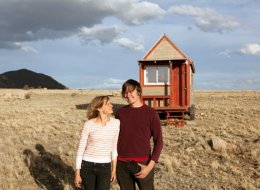 The American dream usually goes as follows: loving parents and adoring children live in a big house on a big hill with a two car garage and furnished basement.That's changing now, as some people opt out of the big American dream in exchange for much smaller homes. So small, in fact, that some of them are only 124 square feet in size.
Christopher Smith and Merete Mueller, a young couple from Boulder, Company. first started building their tiny home from the ground up in 2011. The couple was inspired by experience abroad to take on this project. Both Smith and Mueller traveled so often in their youth that they became accustomed to living without much.  This is fitting, since not much can be crammed into such a tiny home. The house has ceilings that are 11 feet high and just enough room for a small kitchen, sleeping loft and small bathroom that holds a gravity fed shower and composting toilet.
Living in a small house offers homeowners more freedom to pick up and move or travel frequently. In an interview with Huffington Post, Meuller explained that "getting rid of stuff can free up so much time, money and energy to focus on the things that really matter." This is an idea that more and more young couples are beginning to explore, as the desire for an elaborate house begins to seem outdated. With less obligations to a home, traveling becomes a more reasonable dream and money can be spent on things that matter more than living large.
Another benefit to living in a tiny house is the financial aspect. The average cost of heating an American house each winter is nearly $1,000 due to the size and inefficient building structures of  homes. A house that is only 124 square feet, would cost much less to heat. Mueller explained that the financial benefit to living small could encourage others to become "Tiny Housers," especially in the current financial state of the nation.
Living small does have its drawbacks, of course. People who love to decorate or keep objects of sentimental value would certainly find it difficult to contain all of their belongings in such a small space. Smith and Meuller's home has only enough room for one tiny closet and two built-in bookshelves.
When asked about the hardships of living a life of simplicity, Smith said he misses the luxury of running water. For cooking, cleaning and showering, Smith has to get water from the grocery store and bring it back to their off-the-grid home. The couple works around this drawback, though, by showering at the gym and eating at restaurants more frequently, and Smith said that his home was one of the few tiny houses in existence without running water.
In a culture that obsesses over McMansions and brand-new appliances, living small may seem an unenjoyable experience. For Smith and Meuller however, the benefits of this lifestyle outweigh the drawbacks. "Quality of life isn't necessarily tied to how big our houses are or how much stuff we own," said Meuller, "but about the experiences we have and the quality of our relationships."
More can be seen about the growing interest in living small in Smith and Meuller's new film, TINY, which is available online and on DVD.