Marielle Genovesi- Culture Editor 
At the young age of 21, fashion design major and State Times Managing Editor Elizabeth Raphaelson has already been running her own business for a year and a half. The Underground Attic is a vintage clothing business that Raphaelson runs along with a fashion and lifestyle blog. She took some time to sit down and tell us what it is like being an entrepreneur, on top of balancing everything else us college students already do.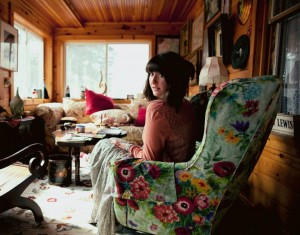 Marielle Genovesi: What were the beginnings of your business?
Elizabeth Raphaelson: My sophomore year of college, I interned at my old school's newspaper as a "fashion journalism and new media" intern. The idea was to come up with a blog that catered to people with similar taste in clothing as me, and to document the campus style with pictures of stylish students accompanied by interviews. It wasn't until about the following fall, when I was discussing with my parents options for a supplemental income, that I decided to open up the Etsy store. I had been collecting vintage pieces for the past few years, so I decided that other people might be interested too!
MG: How does your business work?
ER: I drive all around New York State and find every estate stale, rummage sale and old lady's house (laughs). I've figured out a bunch of different ways to determine the age of a piece, so after doing that, I photograph it, upload it up to Etsy and ship worldwide.
MG: How does the shipping business work out?
ER: I do it all myself and it takes a really long time because I hand-stamp the paper with homemade stamps, wrap the whole thing in twine and then stamp the box or envelope it goes into to ship. I have also started using wallpaper remnants on the outside of boxes, which makes for a really cool effect. The cost is pretty high though. I do free U.S. shipping and for international I charge a flat rate of $10, but considering how long it takes me to pack, write customs forms, plus the cost of shipping materials, it really adds up. I'm sure there is a major learning curve to it though.
MG: Where did your love for all things vintage come from?
ER: My parents had a pretty neat decorating style that incorporated a lot of antique and vintage items. I also loved seeing my dad's friends come over for "picking parties" (jam sessions) and all the ladies would come in these awesome dresses and funky jewelry! I always thought it was the coolest, so I wanted to kind of recreate and tailor it to my own preferences!
MG: Who does your business cater to?
ER: Mostly a demographic of people ranging from 16-35-years- old, but I do have customers of varying ages. The people who shop at my store are generally looking for unique pieces, and are looking for well-made clothing that is neither fast-fashion, nor disposable. At this point, the majority of my sales are to women, because I have had an easier time finding women's clothing, but when I do put up men's clothing, it tends to go fast.
MG: What is it like being a young entrepreneur? What challenges have you faced?
ER: Time management is difficult. It can be difficult to balance having a business on top of school, three part time jobs, practicing my instrument and you know, having a social life (laughs).
MG: How do you get the word out?
ER: Social media big time. I have no shame when it comes to that, but it took a long time to get comfortable with it; it's by far the most accessible advertising channel though. I also rely heavily on word-of-mouth. I try to wear something vintage every day, so that people ask me about it and I can point them in a direction.
MG: What is up with the recent name change?
ER: Next year I am going to put my advertising on a larger scale, so I decided if I was going to change the name it was now or never. The old name [Typographie Vintage] I had come up with on a whim, but this one [The Underground Attic,] I spent a lot of time mulling over. I wanted something that would reference all the romance of a dusty attic full of heirlooms, while still channeling my punky Jack White-loving side.
MG: What are your future plans for the business?
ER: I want to start expanding on my pop-up shops, which have mostly been local events, by eventually purchasing a pop-up camper that would give me the space to do makeovers based on different eras. Then, after you got your 1920's curls and rouge, I could send you over to the booth that was selling a collection of authentic flapper dresses. I am also creating a new online store and accompanying blog currently. A new feature of this site will be the ability for my customers to donate a portion of the proceeds to a selection of charities.
Support a fellow student! Check out Elizabeth's business, The Underground Attic on Etsy, and make sure to "like" her Facebook page. https://www.etsy.com/shop/UndergroundAtticVtg