Tracey Cheek, Staff Writer
Are you tired of the music repeatedly played on the radio or the robotic techno songs that all your friends listen to? Are you sick of the every-song-sounds-the-same type of music? Take a look into Lake Street Dive, an up-and-coming band that is bringing back those old school jazzy qualities that a lot of music in our generation is lacking. With moving vocals and harmonies, smooth trumpet sounds and a powerful bass to tie it all together, Lake Street Dive is shedding light on the music world with their fresh, groovy sound.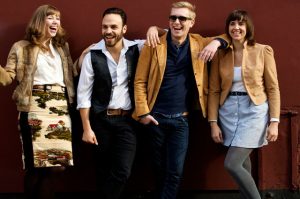 For first time listeners, try out Lake Street Dive's cover songs. They cover classic, old school songs and give them a new school twist. Songs like "I Want You Back" by the Jackson 5, "Rich Girl" by Hall and Oates and "This Magic Moment" by The Drifters are some of Lake Street Dive's personal takes on these memorable songs. Vocalist Rachael Price's distinct sultry voice gives this band an edge. Lake Street Dive has an exhilarating sound that is perfect for almost anyone and practically any occasion.
The group has three records out: a live album, a self-titled debut and the most recent "Fun Machine." This groove-driven band is currently on tour in Europe before heading home to the New England area for a few more shows. The band members met as students from Boston's New England Conservatory and were brought together in a music class. Ever since that class these four people have been coming up with fresh, jazzy-pop songs. Lake Street Dive is a band composed of an infectious vocalist, stand-up bassist, drummer and a guitarist/trumpet player. These different elements combine to make beautiful music that is unlike any other. Contrasting with most new music, the quartet steers clear of vulgar, raunchy lyrics and sticks to clean-cut, soulful ones.
Lake Street Dive is not afraid to put themselves out there. Their music videos consist of live street performances, as well as them playing in mountains, garages and basements. This simplicity emphasizes the true talent these musicians all possess. This band is full of energy and soul that is brought out in every song. "Henriette" is a perfect example of their jazzy attitudes; with all members vocalizing together and creating an upbeat song that makes it impossible to not be happy while listening.
Many of their performances are in outdoor arenas with fans standing up and moving around. That's right—no crazy dancing, no pushing and shoving, just relaxing and feeling the music. This hip, new sound is a refreshing change from the norm. Go and take a listen to Lake Street Dive; its definitely worth it.