Moica Dore, Staff writer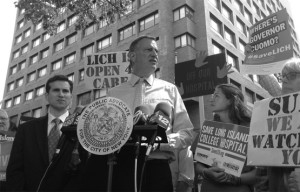 Bill de Blasio was elected Mayor of New York City earlier this month, becoming the first Democrat to hold the Mayor's seat in twenty years. De Blasio beat out Republican candidate Joseph Lhota by an astounding 49 points. Shortly after the results were read, Lhota conceded and called the new Mayor-elect to congratulate him.
De Blasio replaces Michael Bloomberg, a Republican who has been in office for the past three terms since Giuliani left office in 2001. Bloomberg's recent policies were not well received by the public and were often the subject of many late-night talk show jokes. His ban on the sale of soft drinks larger than 16 ounces was seen as especially laughable by the public. The ban was blocked though, when the Supreme Court stated that the board in charge of the ban overstepped their boundaries and violated the principle of power separation.
Giuliani and Bloomberg were successful in lowering the city's crime rate by 74 percent, but de Blasio reminded voters that under their control the gap between rich and poor widened extensively. In fact, in 2012 the one percent of NYC's richest citizens took home nearly 40 percent of all city-wide earnings. While campaigning, de Blasio emphasized that his goal was to reduce income inequality with only a few steps. De Blasio's plans are centered around job creation, including a plan to expand affordable housing options, thus improving communities while creating jobs. De Blasio also plans to raise income taxes on NYC's wealthiest and use the money to fund after-school programs for the city's youth while supplying work to program directors.
When de Blasio is sworn in on New Year's Day, he will inherit many issues left behind by Bloomberg. De Blasio promised to put an end to the racial inequality that is evident in the city's stop-and-frisk policy that Mayor Bloomberg has condoned. The policy, which states that a police officer can stop and search any citizen, has gone under fire because it was shown that African Americans and Latinos were the vast majority of people stopped. De Blasio pushed for Bloomberg to "immediately end the overuse and abuse of this tactic," according to de Blasio's website.
Bill de Blasio must also face labor unions who are upset that their members didn't receive a regular raise when contracts ran out out in 2010 under Bloomberg, leading to stagnant pay. The unions, which have been long-time supporters of de Blasio, are now asking for $7 billion to make up for the money lost in expected raises over the past few years. De Blasio, however, might not be able to make much of anything happen, as New York City is anticipating a two billion dollar deficit in the coming fiscal year. This poses a problem for de Blasio since giving into the labor unions means cutting financial support for schools, police and other public workers.
De Blasio's goals are ambitious and far-reaching, but it goes without saying that they cannot be accomplished alone. With support from Washington and New York as a whole, it is possible that de Blasio can meet his goals despite the work that was left behind from past mayors.