Hannah Griesel, Staff Writer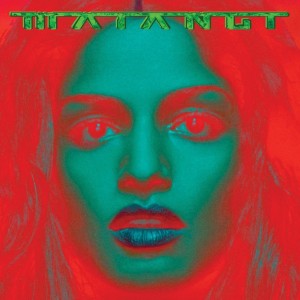 "Matangi" is M.I.A.'s fourth album and her first in three years. Her 2005 debut and 2007 sophomore album both received favorable reviews, but critics were split on her third, "Maya." M.I.A. found inspiration for the next album by researching her namesake, Matangi, a Hindu goddess. After her record label Interscope constantly pushed back the album's release date, M.I.A. threatened to leak the record on Twitter in August. Soon afterwards, they announced the album would come out on November 5.
The record pulls you in instantly with "Karmageddon," a short intro that perfectly introduces what's to come. It starts with chimes, a spiritual "Om" and a beat before M.I.A. joins in with confident vocals. The start of the title track is reminiscent of 2007's "Boyz," but branches off into a direction that is more spontaneous and less hook-heavy.
"Warriors" starts with the same chimes and "Om" as the intro, but launches into a more aggressive rap. "Bring The Noize" has a similar style, and both tracks have a simple chorus with a male voice echoing M.I.A.'s.
"Come Walk With Me" feels like a more serious version of female rapper Kreayshawn's "Bff (Bestfriend)." Kreayshawn's song talks about being friends regardless of a parent's approval and is clearly a sarcastic song. On "Come Walk With Me" M.I.A. sings, "Can I be your best friend?" and talks about being friends through anything. The idea is sweet, but seems much sappier than her usual tough-girl persona.
M.I.A. told BBC UK that for "aTENTion" she teamed up with Wikileaks founder Julian Assange, who "basically decrypted the whole of the internet, and downloaded every word in the whole of the language that contained the word tent within it." He gave her "like, 4000," and she uses the word 43 times in the song.
In the middle of the album is "Exodus," which features The Weeknd, and brings in his usual bedroom R&B sound. He is also featured on the last song, "Sexodus."
"Boom Skit" is a 75 second dis-rap that seems to be against herself. Since performing "Give Me All Your Luvin" at the 2012 Super Bowl with Madonna and Nicki Minaj, M.I.A. is being sued for $1.5 million by the NFL for flipping the middle finger during the broadcast. M.I.A. questions the lawsuit to BBC UK, saying that if you freeze frame the moment she gives the finger you'll see the young cheerleaders that were involved in the performance. She says, "Is my finger offensive, or is the underage…girl with her legs wide open more offensive to the family audience?" However, she sounds more regretful on the track, rapping "Let you into Super Bowl/You tried to steal Madonna's crown."
"Y.A.L.A." (standing for You Always Live Again) includes the album's second Drake dis (in "Matangi" she says, "We started at the bottom but Drake gets all the credit.") In this track, she adds her Hindu spirituality and ends the track speaking, "If you only live once why we keep doing the same shit?/Back home where I come from we keep being born again and again/And then again and again/That's why they invented Karma."
M.I.A.'s "Matangi" is a wonderful collaboration of hip-hop, rap and bhangra: much of what we have come to expect from her. The album features a variety of songs and ideas, and should have something to please fans that have been around since her first album.