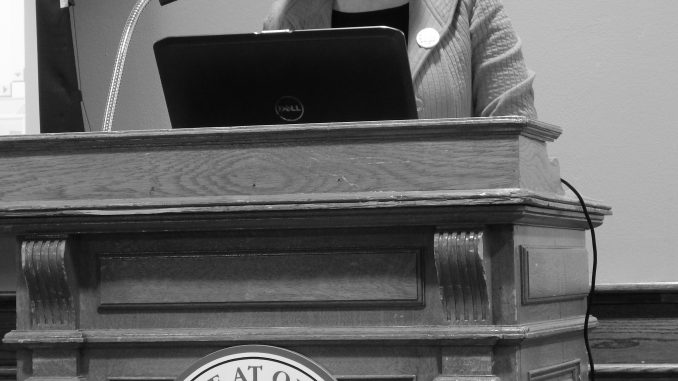 Cady Kuzmich, News Editor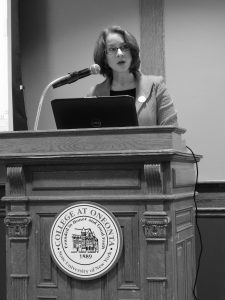 "PARENTS: Refuse NYS Tests" read signs plastering the walls of Morris Hall last Wednesday night during a panel-discussion on the new education standards. Morris Hall's Otsego Grill was packed with teachers, parents, retirees and students, leaving many standing along the walls. Throughout the night, parents and teachers argued that today's "educational reform" would be more fittingly labeled "educational privatization," and as one speaker put it, they were so mad they could "spit nails."
Betsy Bloom opened the floor, tracing the root of our current educational dilemma to 1983 when President Ronald Reagan blamed the failing economy on the education system. According to Bloom, Reagan fed the myth of failing schools, ignoring the issue of poverty.  Another speaker addressed the idea of failed schools later on in the night saying that "schools are not failing, but if you say an untruth enough times, people begin to believe it." Bloom outlined how education has become a corporate interest worth $7 trillion, adding that American education  has been put on sale by Obama's Race to the Top. Bloom ended by describing the monopoly that for-profit publishing company Pearson has on the educational system.
Unlike past standards, the Common Core was written with little input from teachers. The Common Core curriculum authors did not ask teachers to collaborate in writing the curriculum but rather handed them a script. There is no wiggle room and little time to prepare lessons. Creativity and student engagement have been the most prominent casualties. Speakers outlined the problems with the new standards, drawing attention to its hasty implementation, poor materials and "one size fits all" structure that fails to address the needs of students with disabilities or advanced students.
Tearful mothers took the floor to share their experiences consoling highly stressed and demoralized kindergarteners. A local pediatrician spoke to the crowd on the rising rates of anxiety and depression among K-3 students, saying that these kids are "under stress all day, so when they come home, the wheels fall off the bus." She described cases of children sleepwalking while saying "I don't know the answer" over and over again. A retired principle and teacher turned activist took the microphone and asked the crowd to consider what worked best in the past. He called for a return of playtime and proposed mandated instrumental lessons. The crowd erupted.
The next speaker, Bob Mackey, superintendent from Unidilla Valley Central School District, introduced himself to the crowd saying, "I probably won't be the most popular speaker tonight…" And boy was he right. You could feel the crowd's eyes on Mackey as he defended the Common Core. The crowd's patience grew thin as Mackey neared his three minute speaking limit. Shortly after Mackey took his seat, a young substitute teacher grabbed the microphone to tell the crowd she wasn't there to "blow smoke up your you-know-whats…" like Mackey had, adding that unlike Mackey, she was there because she wants to help her children.
Senator Seward made an appearance and seemed rather impressed and surprised with the turnout. He went on to make some vague statement on allowing teachers more flexibility.  Seward promised to advocate for a deep breath and relaxation of standards.
Aspiring teachers addressed the crowd, admitting feeling discouraged by the new scripted curriculum. While not in attendance Wednesday night, Kyle Howerton, a junior at SUNY Oneonta, offered his opinion on the Core Curriculum saying, "As a future English teacher, I cringe at the thought of replacing revered and highly relatable fiction, such as Catcher in the Rye, for drier non-fiction — which pushes students to skim, Google, and gloss meaning."
Nearby, 26-percent of Ichabod Crane students opted out of state tests. Speakers encouraged parents to opt their children out of state testing, saying that if enough students refuse, the tests will become invalid. These new educational standards sacrifice student's needs and creativity for the sake of good test scores. Instead of fostering a love of learning, we are creating anxious children. Yet, this isn't the worst part. These troubled children will turn into adults who are too afraid to think for themselves.