Donna Eberhart– Staff Writer
Stress is piling up. There are things you have to do, places you have to go and people you have to meet. Homework is increasing, tests are popping up like fireworks and papers are due the following day. How do you accomplish everything without going completely out of your mind? Everyone you vent to is telling you to relax. The question is where? The main problem is finding a place where you can focus. The following is a list of places where one can sit down, take a deep breath and finish all their work.
Number one on the list is (drum roll, please)…Milne Library. Yes, it is cliche to suggest the library as the number one place to study, but this library is different than most in that it offers five floors.  The most quiet floors are the sub-basement and the third floor, where your mind doesn't wander off into that annoying tap, tap, tap of someone else's pen on their notebook or what that group behind you is talking about. These two floors create an intense quiet, almost peaceful atmosphere so you can concentrate on that six (or was it ten?) page essay due tomorrow.
Also on campus are the study lounges provided in each and every residence hall.  These are actually quite useful, as they don't allow the distraction of either your roommate or your dorm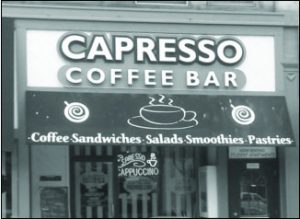 's sleep-inducing atmosphere. The lounges' plain walls and simple furniture allow for focus and concentration.
Hunt Union is third on the list. There are three floors, and all of them have seating arrangements and even classrooms to study in. Second floor, you can get your coffee fix at Starbucks too. Even though the walk up to Hunt Union can be tiresome, this building is a good place to be during crunch time.
Next up, Capresso. The coffee bar right on Main Street welcomes you with not just the smell of coffee beans, but the sense of a chilled-out home. This shop has dining tables and comfy couches for seating. The best part? When you're about to fall into a deep sleep from the monotonous boredom of studying, just pop up and ask for a nice large espresso. Coffee is at your fingertips and the atmosphere is nice.
Last but not least is The Yellow Deli on Main Street. This restaurant offers not only a variety of delicious food, but a place to do your homework with free wifi. The soothing background music and cozy booths offer up a great study space.
So get going, students! Stop procrastinating and wasting your time among distractions. Now that you know where to settle down and work, time to study, study, study!