Dan Ainspan, Staff Writer
Last Tuesday, the SUNY Oneonta Songwriters Club held its annual songwriting competition at Hunt Union Square. Contestants had the opportunity to perform one original piece of music and were critiqued by a panel of three judges in an American Idol-like format. This year's judges included Grammy nominated professor Jeremy Wall, professor of hip-hop culture Dr. Yaser Robles and special guest and Oneonta alumni Jeremy Grinacoff.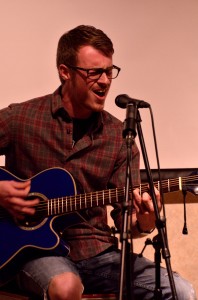 Grinacoff, who graduated in 2010 and was a member of the Songwriters Club himself, opened the competition by performing a number of original songs and discussing his life as a competing musician in New York City. He said, "As a recent graduate of SUNY Oneonta, being invited to open and close with my own set of music and be a guest judge for the Songwriters Club Songwriting Competition was such an honor. I remember being a part of these competitions while I attended Oneonta, and the sense of community and support that fills the room regardless of the venue. Ears are always open, students [help] one another, [and there is] so much positive interaction and reinforcement from both staff and students alike."
Songwriters Alexa Tumbarello and Taylor Clark, who performed together for the first time this year, feel the event is a great place for songwriters to share and embrace their music. "I love all the people in Songwriters Club. Everyone is so welcoming and I always feel so comfortable when I share my songs and anything I've written," says Taylor. "It's really helpful that everyone else in the club is a musician as well, so if you're nervous or don't feel prepared, everyone understands because they've all been in that boat before," added Alexa.
Among the 12 contestants, junior Frank Funigiello was chosen as the winner with the performance of his original song, "Search Party." "It was a shock that I actually won it, I didn't think that was going to happen," remarked Frank. "There were so many other awesome people who played."
As Frank said, all of the contestants were very talented, and each brought their own unique musical style to the stage, such as songwriter Jerid Goss, who performed alongside a digital recording of a track he produced. However, unlike the occasionally harsh American Idol celebrities, the judges were genuine and took the time to carefully analyze a song's structure and meaning, while giving thoughtful advice to the songwriters on how to improve for the future. "I mean, the main reason I wanted to do it was just getting my song critiqued, because that was the one song I was really not sure of the structure and I wanted to hear what they had to say," said Funigiello. "It was definitely really helpful."
"We want to give the students and performers an opportunity to have their songs critiqued by music industry faculty and established songwriters," said Songwriters Club President Wade Mulvihill. "It's an annual event, and the winner gets to have three of their songs recorded by APEC (Audio Production and Engineering Club), and that's cool for a lot of performers because not everyone has the opportunity to record."
Fortunately for Frank, his band, Bray, was recently signed to The Music Industry Club's Red Dragon Records, as part of another competition in which they'll also get a chance to record with APEC. As a result, Funigiello says he's willing to offer up some of his recording time from the Songwriters Club Competition to the runner up. As for the future, Frank and his band are looking forward to recording and performing in town. "We have a bunch of shows lined up, including a couple shows at the Oneonta Theatre later on in November and December. We're looking for more shows to play, but in the meantime we're just trying to focus on recording and getting at least some songs out there, just so people can hear what we sound like, and then eventually get this album done for late spring," said Frank.