Hannah Griesel, Staff Writer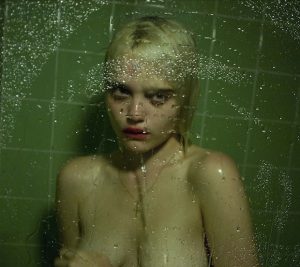 Sky Ferreira, the 21-year-old singer, actress and model, has been around music her entire life. Her grandmother worked with Michael Jackson for years and Ferreira spent a lot of time around him growing up. She started taking opera lessons when she was 13, and uploaded demos onto her MySpace page where she started receiving attention around the age of 15. Although "Night Time, My Time" is Ferreira's debut full-length, she's already released two EPs, 2011's "As If!" and 2012's "Ghost" to generally positive reviews. If you haven't heard her 2012 single "Everything Is Embarrassing," regarded by Pitchfork, The Guardian, and the Los Angeles Times as one of the best songs of its year, you may have seen her modeling for Calvin Klein, Adidas, or Yves Saint Laurent.
"Night Time, My Time" has been anticipated for a while, with an original release date set for back in 2011 and constant album title changes. According to Pitchfork, Ferreira blames her record label for these problems, saying, "I wasn't going to be what they wanted me to be because I couldn't do what they wanted me to do." This meant that over 400 songs were turned down during the process of creating the record and, other than "You're Not The One" and "24 Hours," the entire album was written very quickly in August, after her record label told her they were out of money and ideas—but she'd be welcome to finish it out of her own pocket.
"Night Time, My Time" has a scratchy sound to it, as if the songs are all demos. Whether this is due to the lack of time she describes or not, it perfectly complements her sound. Overall, the album combines an 80's pop vibe with elements of 90's alternative and today's electro-pop, similar to Charli XCX and Icona Pop. In regards to the album, Ferreira said in an interview with Noisey, "I guess it's…up-tempo songs, all still pretty electronic, although for some reason it comes across more pop-rocky live." Tracks "Nobody Asked Me (If I Was Okay)," "I Blame Myself" and "Ain't Your Right" stand out with their irony: up-beat pop songs that contradict their sad lyrics. In "I Blame Myself," Ferreira sings "It's like talking to a friend who's trying to be your lover" and discusses being angry at herself for the damages done to her reputation, possibly foreshadowing her arrest on heroin possession charges last month. In addition to those, you might catch yourself humming "Boys," "24 Hours," "You're Not The One," "Heavy Metal Heart" or "Love In Stereo" after you've given the whole album a listen. The stranger songs from the album are the title track, "Omanko" and "Kristine."
Ferreira doesn't try to fit into a pop mold, and although it's what many people like about her, others regard her as a pop singer trying to wear another genre's clothing. If anything, the music from her first EP and her first album seems to have steered more away from conventional pop. Hopefully, we won't have to wait so long to find out if her sophomore album turns back around or heads deeper into experimental indie-rock.