Elizabeth Raphaelson, Managing Editor 
Perfect for the late-start mornings, these awesome gluten-free pumpkin muffins freeze perfectly.
Make a batch or two on a lazy Sunday morning, and be feasting for weeks!
What you need: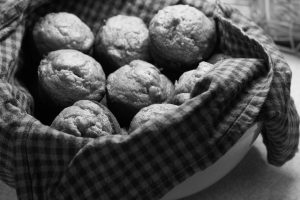 1 cup brown sugar
1 cup white sugar
½ cup vegetable oil
1 small can of pumpkin
½ cup water
3 cups of all-purpose gluten-free flour
1 ½ teaspoons baking powder
1 teaspoon baking soda
½ teaspoon ground cloves
¾ teaspoon ground cinnamon
½ teaspoon ground ginger
¼ cup chopped candied ginger
1 teaspoon salt
1 ½ cups dried cranberries
1 cup chopped walnuts
What you do:
In a large mixing bowl beat oil, sugar, pumpkin, eggs and water. Combine flour, baking powder, soda, spices and salt. Add to pumpkin mixture; blend well. Fold in cranberries, walnuts and candied ginger. Spoon into greased muffin tins, filling ¾ full. Bake at 400 degrees for 15 minutes. Pairs well with peanut butter, apple cider and an issue of The State Times.