Dominick Bellezza, Contributing Writer
A number of extremely talented musicians took the stage Wednesday October 23. It was quite a show, and the third of eight to be presented by the Music Industry Club.
The bill consisted of the bands The World Is a Beautiful Place and I Am No Longer Afraid to Die, Daylight, Nightmares For a Week and a band not many people know of yet, that includes one of Oneonta's own students.
Paul Levine plays lead guitar for D E A T H C U R E S, and expressed excitement for the opportunity:  "I'm happy to be playing. The opportunity of playing with and meeting these bands is something to be grateful for." His bandmates Chris "Chrimb" McKenna and Kieran Anderson expressed the same excitement any aspiring musician would when playing with such popular names. "This could help put us on the map," Anderson said when asked about the opportunity they've been presented with. McKenna had the same reaction as the rest, saying "It's a great opportunity for an up-and-coming band… it's noble of the school and the bands to let us play with them."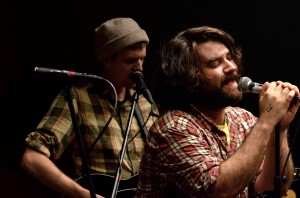 The show started off with good vibes right away. Seeing hometown friends of mine on stage presenting their version of soul music with a hardcore punk influence was more than a pleasure.
While watching Nightmares For a Week, Sean Paul Pillsworth's excitement to be onstage was more than evident as he jumped around to what most would consider punk-rock riffs. You could tell they were a tight-knit group by how they carried themselves both on and off the stage. Daylight's harder, grunge-like sound was a great transition before The World Is. The World Is built anticipation with their music and unleashed a seven-member band with an intricate twist on what some people might label as "emo."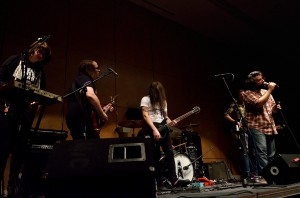 The World Is and Daylight kicked off their tour with us in Oneonta, and it's a joy to have had them.  With stops as far away as Baltimore, it shows how much the band has put into getting their music heard, and is evidence of their growing popularity.
Aside from the variety of sounds this show had, the most refreshing aspect for me was seeing the emotion come out on stage. Each band was unique, and really showed what music can do for you as an individual as well as a group.
Music Industry Club put on another successful show. If you like live music and want to see it on a college budget, I encourage you to come, support the club and check out some stellar musicians.