Jill Reda, Contributing Writer
SUNY Oneonta professor Jill Carey Michaels' band, Rough and Lovely, is a semi-finalist in WSRK FM MIX 103.9's Sick Puppies Opening Act Contest.
Last week, the radio station selected Rough and Lovely as one of the best videos in the running to win the contest and open up for the hard rock band from Australia on Friday, November 8 at the Oneonta Theatre.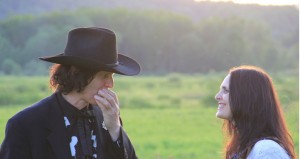 The winner of the music video contest will be determined by whichever band gets the most "likes" on WRSK's Facebook page.
Rough and Lovely's music video for their single, "Afterthought" was created, directed and produced by Certain Grants; a local production and marketing firm. An energetic team of SUNY Oneonta interns provided production support in various capacities and the final video cut "Afterthought" was co-edited by SUCO Mass Communications honor student, Zack Haviland.
According to WSRK's website, the likes will be tallied this Friday, November 1 at 8am—one week before the show.
Jill Carey Michaels is a singer/songwriter and storyteller, originally from Philadelphia; she traveled out west to California to hone her craft. Her multi-media performances and music first found a home in New York City's gritty east village, and later, in the foothills of the Catskills. When not performing, Jill teaches Creative Writing at SUNY Oneonta and Computer Graphics, Animation and Design at SUNY Delhi, Cobleskill, Empire and The Art Institute of Pittsburgh Online.
The other half of Rough and Lovely, Ed Michaels, is a renowned rock and roll/ blues percussionist who has toured with Grammy nominee Roy Rogers and the Delta Rhythm Kings.  Ed has shared stages with the likes of Stevie Ray Vaughan, B.B. King, Robert Plant, George Thorogood, Ted Nugent and Canned Heat.
Rough and Lovely is represented by Certain Grants, a Milford-based public relations and advertising firm that is headed and supported by SUNY Oneonta students.  The owner, producer, and director, Beatrice Georgalidis, is a SUNY Oneonta Mass Communications major with over ten years of professional experience in film and television.