Marielle Genovesi – Culture Editor
Two drugs that you can safely combine into one especially yummy drink, why not?
This drink has been a staple at Irish pubs and in Irish homes for over half a century. It's a drink that can be enjoyed more casually than a Saturday night cocktail, because who needs to be fancy all the time? Make sure to sip on while listening to some Irish drinking music, like Flogging Molly's "Drunken Lullabies."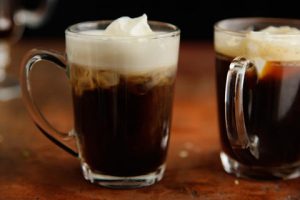 Prep Time: Four minutes
 
Ingredients:
– 4 ounces of strong, rich hot coffee
– 1 ounce Irish whiskey
– 2 teaspoon brown sugar
– 1 ounce lightly whipped double cream
 
Preparation:
1. Pour the sugar and coffee into a warm glass, mug or other heat-proof stemmed glass.
2. Stir until dissolved.
3. Add the Irish whiskey and stir again.
4. Float the cream on top by pouring it over the back of a spoon. Do not stir again. Instead, drink the coffee through the cream.