Marielle Genovesi – Culture Editor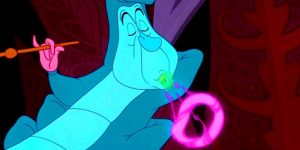 Aries: You find yourself feeling adventurous this week, but snorting cocaine is not the adventure for you.
Taurus: Whatever you do, don't get high to the Canadian national anthem. One's psyche shall never be prepared for that.
 
Gemini: Feeling ridiculously stressed? Feeling hungry for reasons you just can't put a finger on? Make sure to stock up on the snacks. Don't forget the brownie mix.
Cancer: You might feel the need to proclaim to your U.S. history class that President George Washington smoked the ganja. Not only would you be wrong, but you might make poor George turn in his grave. Let me tell you, the last thing you need is a ghost haunting you.
Leo: The chick named Molly that lives down the hall hates you, because every time you see her you remind her that her name is also a drug. Not the best form of flattery, jerk.
 Virgo: Be careful this week, because you may end up in cuffs. We both know you were never good at "Hide-And-Seek" as a kid. And we all know that cops are really good at "I Spy."
Libra: You do realize that the amount of caffeine you consume a day makes you a drug addict. Congratulations on being the lamest of the "druggies."
 
Scorpio: The amount of alcohol you drink this weekend may cause you to bust out some seriously dank dance moves on top of every surface you deem stable. Don't be surprised when you see yourself on YouTube.
Sagittarius: If you drive after drinking, the grim reaper will literally slice your head off for being a terrible human being.
Capricorn: Visine is sold at every drug store. That is all.
 
Aquarius: This week you will be called a fraud, because you're a Bob Marley fan and you don't even like reggae.
Pisces: You'll feel super embarrassed when this cute guy asks for your number, but you can't even remember your own name. When in doubt, just tell him it's "Mary Jane."