Elizabeth Raphaelson – Managing Editor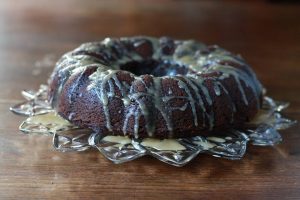 If you like sweets, treats and booze, this is the recipe for you. Most recipes that use booze end up cooking off the actual alcohol during the process of making them. The best thing about this tasty cake is NOT that it's comprised of chocolate and coffee, but that you can get drunk while you eat it.
What you need:
2 cups gluten-free all purpose flour
2 teaspoons baking soda
1/3 cup unsweetened cocoa powder
1 tablespoon cornstarch
1 cup brown sugar
1/2 teaspoon salt
In a medium bowl, microwave 1/8 cup of fresh orange juice and an 1/8 cup of whiskey until warm.
Stir into warm juice:
2 tablespoons freshly grated orange zest
2 tablespoons instant decaf coffee granules
After coffee dissolves, whisk in:
1 1/2 teaspoon cinnamon
1 3/4 cup unsweetened applesauce
1/4 cup canola oil
1 tablespoon vanilla
Add the wet ingredients to the dry with a few swift strokes just until blended. Pour into bundt pan. Bake about 60 minutes or until a toothpick comes out with moist crumbs. Cool on rack.
Whiskey glaze:
1/3 cup whiskey
1 cup brown sugar
1/3 cup powdered sugar
Mix and drizzle over warm cake and serve to your already plastered 21+ house guests.