Alex Fredkin, Arts Editor
Are you a fan of Led Zeppelin but never got to see them play live? Do you debate with your friends whether Led Zeppelin II or IV is their best album? Is John Bonham the best drummer in the world and Jimmy Page the best guitarist? Well then Get the Led Out is the band for you!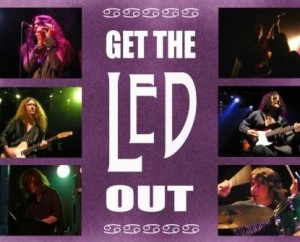 Being hailed as "The American Led Zeppelin," the Philadelphia natives are not newcomers to national tours (or the hills of Oneonta) and are storming the Oneonta Theatre stage this Saturday night, October 5. The 8:00 show will feature the band's parade of musicians: Paul Sinclair (lead vocals/harmonica), Paul Hammond (lead guitars/mandolin), Jimmy Marchiano (guitars/vocals), Billy Childs (bass/vocals), Adam Ferraioli (drums/percussion), Andrew Lipke (keys/guitar/vocals/percussion) and Diana DeSantis (vocals on "Battle of Evermore").
Why so many musicians for a tribute band based on the legendary four-piece? Get the Led Out lead singer Sinclair summed it up best when he spoke to the State Times last year, saying, "You don't know Led Zeppelin from their live performances; you know them from the albums. That's what most people want to hear, and that's what I want to hear." For this reason, the entire group is necessary to recreate each different part note-for-note on all of Led Zeppelin's complex and multi-layered songs.
Check out the Oneonta Theatre to rock out to classics such as the wailing "Black Dog," the mysterious "Dazed and Confused" or take a journey through the adventure that is "Stairway to Heaven." Tickets for the event are $25 in advance and $28 the day of the show, and can be bought at the Oneonta Theatre, Maxwells and online at oneontatheatre.com.