Alex Fredkin, Arts Editor
After being the student band at last year's OH-Fest and this year's fall concert with Timeflies and Mayday Parade, it wouldn't be a stretch to call Hello, Seattle the busiest band in Oneonta. Now with the release of their debut album "Improper Greeting," they are making their case to be called the best.
Hello, Seattle consists of Amy Maxwell (guitar/vocals), Frank Cicciarello (bass), Andrew Platt (drums), Jason Psanis (piano), and lead singer Kimberly Berg. All members of the group are students of SUNY Oneonta; the group started when Berg and Maxwell met in one of their classes back in 2011.
Their debut is a polished record and shows professionalism that not many student bands can make claim too. It runs the spectrum of pop rock, with some reserved acoustic songs as well as a few heavy tunes.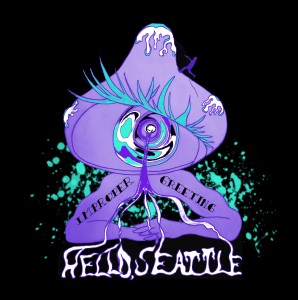 The album starts off with an intro track called "Let it Go." With a repetitive yet enchanting guitar riff recalling Three Doors Down's "Kryptonite," the song builds and builds upon itself, adding bass, drums and vocals, culminating in a raging crescendo. Berg's vocals rise out of the depths amidst a frenzy of toms and ferocious crashes from Platt.
The album's heaviest song is undoubtedly "Broken Glass," which features some syncopated AC/DC riffs from Maxwell and fast-paced punky choruses. Berg does her best Hayley Williams (of Paramore fame) impression and brings some edgy rock vocals to this song, as well as the others on the album.
Adding some welcome subtlety to the sonic landscape is Psanis' piano. He often colors songs with a light and airy feel, playing a more central role on tracks such as "Fire Eyes" and "Peter Pan."
The group reveals their soft side best on "The Cure." The song has a minimalist feel, with a peaceful guitar riff and laid-back pocket drums. Berg's soothing crooning is spot on, and the listener truly feels the emotion in the song. The spaces in the sound are filled in beautifully by Cicciarello's melodic bass lines. A nice piano accompaniment at the end of the song sparkles like glass in the sunlight, reflecting the mood of the song.
While every track has its place on the record, the single "Ghost in a Common Place" is truly the highlight. It hits hard with a driving, frantic guitar riff that is matched by a quick break beat-style drum beat. The triumphant chorus sounds smooth and charges forth as Berg's vocals soar above it all.
"Improper Greeting" is a solid album all the way through. It shows depth sonically, and points to a band that has great promise and potential. From the softer songs to the intense ones, each track was clearly tailored for a specific purpose, and the pallet of the entire project tastes just right. Continuing their penchant for a busy schedule, Hello, Seattle is having a beach-themed album release concert this Friday at Gallagher's Pub Club & Grill. Fans of the group will certainly be there to support them, and any newcomers will surely be in for a treat.