Hannah Griesel – Staff Writer   
The 65th Primetime Emmy Awards aired on September 22, and, as usual, did not fail to excite in the fashion department. The Emmy's have been described as the prom night of award shows. Celebrities dress in a way that's classy and meant to impress, in contrast to the wild fashions that are often seen at the MTV Music Video Awards and the Grammys.
The unofficial winner of the night seems to be "Modern Family"s Sofia Vergara, who topped many be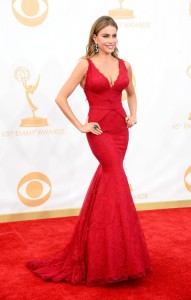 st-dressed lists in her red, show-stopping Vera Wang dress. Other best-dressed actresses were the unstoppable comedy team of Tina Fey and Amy Poehler, as well as "The Big Bang Theory"s Kaley Cuoco, Mindy Kaling of "The Mindy Project" and Julia Louis-Dreyfus of "Veep." Zosia Mamet of "Girls" chose an honor dress that combined tie-dye, mesh and leather. She landed herself on both best and worst-dressed lists. E-Online's Fashion Police gave her a positive review, although they noted that "her boobs look like they're wearing sunglasses."
More debatable looks were brought by Zooey Deschanel who was on the best and worst dressed lists, Anna Faris, whose choice of yellow brought concern to some, and Allison Williams, who was regarded as pretty, but boring. Sarah Hyland wore an emerald green CH Carolina Herrera, which received mixed reviews. The Fashion Police wrote, "This is how young Hollywood should do award shows," while Time Entertainment put her on their worst-dressed, saying that her dark dress and dark lipstick made the "Modern Family" actress "look much older than her 22 years." Heidi Klum's gown may have been the night's most buzzed about look, with a futuristic collar and bold combination of color and sparkles that left many wondering who else could pull off such an elaborate piece.
Worst-dressed celebrities were Lena Dunham of "Girls" in an ill-fitting Prada gown, Paula Abdul in a neck-to-ankle long sleeved gold dress that Perez Hilton said made her "look just like the trophy" at the Oscars, Julianne Hough in an off-the-shoulder sheer ensemble, and Lily Rabe in a Vionnet dress that looked like it could've been two pieces sewn together.
Even though the Emmy's are a night to honor the best in television, the fashion didn't disappoint. From Sofia Vergara's beautiful look to Paula Abdul's nightmare gown, the looks will certainly be remembered until next year's show and beyond.