Anthony Beers, Staff Writer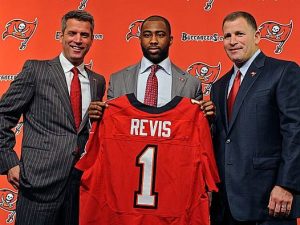 In the ultimate "win now" league, the New York Jets recently agreed to terms with the Tampa Bay Buccaneers on trading cornerback Darrelle Revis. In return, the Jets acquired the Bucs 13th overall pick in the first round of the draft. The Jets will likely also acquire a third round pick next season if Revis' stay in Tampa Bay lasts more than just next season.
The crucial detail in Revis' new contract, (which has him receiving $13 million a year for a total of $96 million), is that he will not be receiving any guaranteed money. Revis can be cut at any time if he does not fit the Bucs needs. The potentiality of Revis as a Buc remains a mystery because he is coming off an ACL tear last season that he had surgically repaired. For several years as a Jet, Revis was one of the most feared cornerbacks in all of football, putting number one receivers on "Revis Island" on a regular basis.
Despite his dominance as a Jet, Revis earned a reputation in New York for really loving his money. Several times Revis would hold out due to contract disputes and demand more guaranteed contract bonuses for feeling he was the best cornerback in football. This is what makes Revis' recent signing in Tampa Bay so intriguing, regardless of the fact that it's still a very large contract for a defensive back; it shows that Revis truly has the confidence to perform at a dominant level in the NFL yet again.
From the Jets standpoint, most fans view it as a trade that simply had to happen, as the Jets appear to be in a rebuilding stage due to their struggles last season. But the feeling among Jets fans is that perhaps they could have received more for trading Revis, whom Jets fans worshipped the ground he had walked on in New York. Truthfully, the Jets received a very fair deal for a cornerback coming off ACL surgery.Advancements in medicine for doctors and surgeons have obviously made this type of injury not as fatal as it used to be, but there is still a very large chance that Revis will not be as dominant as before. Not all athletes are Adrian Peterson, just ask Derrick Rose.
The Jets can look at this deal very optimistically. They were in no position to pay Revis and with the picks took cornerback Dee Milner and defensive tackle Sheldon Richardson, as they wanted to replace Revis and shore up the rest of the defense. Not to mention the additional cap space the Jets will have saved by not paying Revis to sign additional players in the future. The Jets played the safe route and actually did something that makes sense.
Vincent Crabtree, Staff Writer
Darrelle Revis, also known as Revis Island, is regarded by many as the best defensive player in the NFL. The Pro Bowl cornerback will be suiting up for the Tampa Bay Buccaneers this season as the New York Jets look to rebuild their debacle of a team. On the surface, many would question why the Jets would part ways with arguably the most pivotal player on their already shaky roster. But dig a little deeper and the writing has been on the wall for some time now. Revis and the Jets front office already had a lot of financial turmoil a couple of seasons ago and after a season where the Jets lost the all-pro player to a torn ACL, they were even less willing to shell out the cash that Revis felt he was warranted.
On the flip side, the Bucs are a team that has been putting together the pieces to be a playoff contending team for the past couple of seasons. In an off-season that saw the Bucs add highly regarded safety Dashon Goldson, they needed to add a play making cornerback to put their secondary over the top. Both teams took big risks with this trade. The Jets are hoping that they made the right call in thinking that Revis won't be able to return to his pre-injury Pro Bowl form, whereas the Bucs are hoping that they got the all-pro for a first round pick that wouldn't have yielded a player of Revis' level anyways.
It's worth noting that the Jets used their ninth overall draft pick on Alabama cornerback, Dee Milliner, who, to many experts, was the top corner in the draft. Also worth noting, is that Milliner is to heading into the NFL with a laundry list of nagging injuries himself. For the Jets, this was a trade that had to be made if they are serious about starting over. As for the Bucs, they get their prospective piece to their playoff puzzle. But nothing is ever won in the off-season (just ask the Eagles about that) and teams on paper are completely arbitrary. So we will have to wait until the season begins and realistically, is well underway, to see if either team made out with this deal. But if for nothing else, this trade shakes up the dynamic of the league and will make for interesting conversation for seasons to come.