Bobby Lemaire,Staff Writer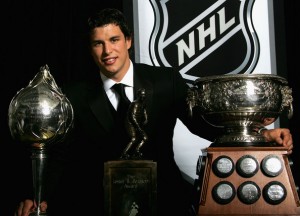 With the NHL regular season ending April 28, it is time to give out some hardware. Here are my picks for the winners of some of the more notable NHL awards.
Hart Memorial Trophy (Most Valuable Player): Sidney Crosby, Center, Pittsburgh Penguins

While Crosby has missed the final 12 games of the regular season, he was still the point's leader going into the final week of the season. Accumulating 56 points in only 36 games, Crosby showed that when healthy, he is the best player in the league and no one is close to him. When he is on the ice, he turns decent players like Pascal Dupuis into a lethal threat.
Lady Byng Memorial Trophy (Sportsmanship): Pavel Datsyuk, Center, Detroit Red Wings
Choosing this award is very tough because stats really have nothing to do with it. While Datsyuk is one of the best players in the league, his on and off-ice demeanors make this a clear choice in my mind. Another reason my vote goes to him is because he is already a four time winner of this award. Every year, he is consistently one of the league leaders in fewest penalty minutes and is known for being respectful towards both the refs and opposing players.
Vezina Trophy (Top Goaltender): Sergei Bobrovsky, Columbus Blue Jackets
Entering the 2013 season, the Blue Jackets were a long-shot for the playoffs in the Western Conference, but the fantastic play of Bobrovsky had kept them in contention until the final days of the season. "Bob" is ranked second in the league for save percentage, with a staggering .930. His Goals Against Average is a minuscule 2.06 and he has four shutouts on the season. His strong play allowed the Blue Jackets to shed salary cap space by trading goalie Steve Mason.
Calder Memorial Trophy (Rookie of the Year): Jonathan Huberdeau, Center, Florida Panthers
Huberdeau has been in a constant battle with Ottawa Senators forward Cory Conacher for the points lead amongst rookies. The reason why I give Huberdeau the edge is because he is able to produce, even though there is a significant lack of talent on the Panthers roster. Huberdeau will be in the NHL for a long time.
James Norris Memorial Trophy (Top Defenseman): Ryan Suter, Minnesota Wild
In his first season with the Wild, Suter has been both a constant offensive and defensive threat. He led all defenseman in average time on ice, averaging over 27 minutes per game. He is also ranked second amongst defenseman with 28 assists.
Jack Adams Award (Coach of the Year): Randy Carlyle, Toronto Maple Leafs
The Toronto Maple Leafs have clinched a playoff spot for the first time since the 2003-2004 season. A major reason why the Leafs will be playing meaningful hockey is thanks to Carlyle. Coaching a professional hockey team in a hockey-crazed city is tough enough, but coaching a team that hasn't made it to the playoffs in almost a decade brings even more pressure. Nonetheless, his work with goaltender James Reimer and rookie Nazem Kadri has gotten this team going. Carlyle deserves a lot of credit for bringing hockey relevance back to Toronto.
Frank J. Selke Trophy (Best Defensive Forward): Pavel Datsyuk, Center, Detroit Red Wings
Pavel Datsyuk is considered one of the best offensive players in the NHL and rightly so. But, he may be an even better defensive player. In addition to winning the Lady Byng Trophy three times in a row, he also won the Selke Award from 2008-2010. His ferocious backcheck and quick pokechecks make being an offensive player against him a nightmare.