Kaylyn Boccia, Staff Writer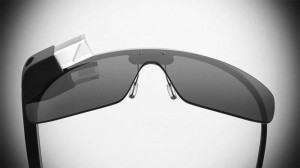 Within the next few years, we may be able to see things through our glasses in HD. Google's recent invention, "Google Glass," allows you to do everything you can do on a computer or smartphone, hands free, anytime, anywhere. Google Glass is essentially a pair of glasses that do what the person wearing them tells them to. These glasses are intended to free up your space on your desktop computer, laptop and/or smartphone, and store it right in front of your eyes. In essence, Google Glass is a camera, display, touchpad, battery and microphone built into a pair of glasses. They allow you to film and photograph what is in your field of vision, as well as search things, and even translate words you speak into different languages on the go.
Google Glass uses display technology of a prism screen to put information in front, or to the upper right of the lens, to not interfere with your vision. This display is equivalent to the picture of an HDTV, if you were to view it from a distance of 8 feet away. So what are the benefits of this wearable technology?
Google Glass allows you to view translations or transcriptions of what is being said in a language you do not understand, as well as read and reply to messages, on the go. The first-person perspective used to take pictures or videos makes the process easier and more accurate because you do not need a viewfinder. It will interpret and complete your demands with a few words or a simple gesture. The glasses also produce sound, which is much less cumbersome than traditional headphones. There's 16GB of flash memory built into the device, with 12GB of the 16 available for user storage. The device will also allow for syncing to your Google Drive in the iCloud; bluetooth and WiFi will also be built in. However, Google Glass does not have a GPS chip. This idea of wearable computer technology may also be spreading to other companies outside of Google.
Oakley now makes a ski goggle with similar displays in the lens. It shows changing speed and altitude, as well as having the capability of displaying incoming text messages. They also have global positioning technology, Bluetooth to stream calls and music. However, receiving text messages, phone calls and distracting your vision while skiing may not be the smartest idea. Oakley acknowledges this concern by clearly printing on the packaging "do not operate product while skiing." This seems ironic that the company is forced to put a warning on the operation of ski goggles while skiing, however, "it is an admonition that should be taken with a grain of salt," according to Chris Petrillo, a product manager at Oakley. Many safety advocates seem to agree with this warning and believe this is information overload that becomes particularly unsafe when people are using them at high speeds (much like texting and driving).
Many consumers say that these glasses can be performance-enhancing gadgets, as long as you're careful. Google and Oakley seem to think that this is the future of technology. However, it is hard to tell right now whether these new forms of wearable computers are more distracting and dangerous than they are useful. However, it just may be an upcoming trend, with Oakley already having sold some of their high-tech ski goggles. These glasses/goggles are not cheap though, with Oakley's ski goggles running at $600 a pair and Google glasses at over $1,000. Google Glass is expected to be released to consumers by the end of 2013.